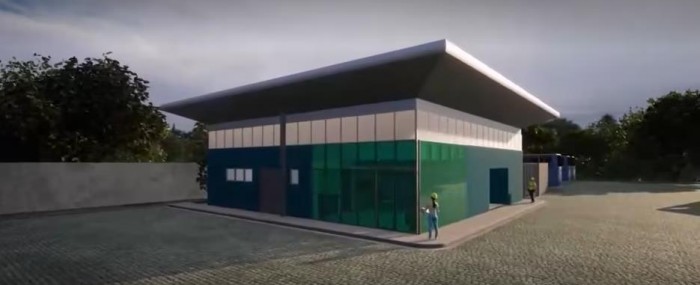 The project is the result of a partnership between FAPESP and Shell and could help make hydrogen a widely used fuel in Brazil. Hydrogen from a pilot plant to be built at USP using Raízen's ethanol will power buses on the campus (illustration: Shell)
World's first hydrogen-from-ethanol plant will be built at University of São Paulo
15 de agosto de 2023
By Maria Fernanda Ziegler | FAPESP Innovative R&D – On August 10, 2023, work began in São Paulo city on implementing the world's first plant to make renewable hydrogen from ethanol. Scheduled to begin operating in July 2024, the pilot facility will produce 4.5 kg of hydrogen per hour to fuel three buses that will run on the campus of the University of São Paulo (USP). The reformer's performance will be analyzed for ten months. If it is successful, the next step will be implementation of a plant to produce 45.5 kilos of hydrogen per hour.
"The main advantage of this technology is its negative carbon footprint. It's also very cost-effective. Ethanol logistics, which already exist in Brazil, are much cheaper than hydrogen logistics. Ethanol can be converted to hydrogen in reformers installed in service stations across the nation. We're able to produce hydrogen at a cost of six to eight US dollars per kg, or almost half that of hydrogen from other sources. Furthermore, the technology captures CO2 from ethanol, resulting in negative emissions compared with hydrogen from solar power, for example," said Julio Meneghini, Director of the Research Center for Greenhouse Gas Innovation (RCGI).
RCGI is an Engineering Research Center (ERC) established by FAPESP and Shell at the University of São Paulo's Engineering School (POLI-USP). FAPESP has so far set up 22 ERCs in partnership with private enterprise.
"The project for the first hydrogen conversion plant shows that it suffices to put a seed in the right hands in order for both financial support and application of the innovation to be expanded. FAPESP has invested BRL 45 million in RCGI. The total amount invested in the center is BRL 465 million, multiplying our input by ten. This is the kind of entrepreneurship we need. So spread the news that FAPESP, São Paulo's universities and technology companies are innovating here in São Paulo," said Marco Antonio Zago, President of FAPESP.
"The aim of this innovative project is to demonstrate that ethanol can be a renewable source of hydrogen and that we can leverage the logistics already operating in the industry. The technology can help decarbonize sectors that consume energy from fossil fuels," said Shell Brazil CEO Cristiano Pinto da Costa.
Of the BRL 465 million invested in RCGI in the last seven years, BRL 270 million came from Shell – BRL 50 million for the hydrogen-from-ethanol project – and BRL 45 million from FAPESP. Other companies have joined the project along the way, with Total Energies injecting BRL 80 million, Petronas BRL 57 million, Braskem BRL 5 million, Repsol BRL 3 million, Petrobras BRL 2 million, Marco Polo in partnership with Embrapii and USP BRL 670,000, and SRI BRL 600,000.
Legislation and regulatory framework
At the ceremony held to launch the project in POLI-USP's auditorium, São Paulo State Governor Tarcísio de Freitas underlined his administration's commitment to research and development, and incentives for new renewable energy technologies.
"I'd really love to have hydrogen-powered buses running throughout São Paulo state. I'm proud that the first hydrogen-from-ethanol plant on this scale in the world is being established here in Brazil, here in São Paulo. We have all the elements to make the energy transition. We have qualified scientists, innovation, and we have FAPESP, this patrimony of São Paulo state," he said.
Before the ceremony, Freitas expressed his enthusiasm during a meeting at RCGI with scientists, business leaders and participants in the project. "I have many questions," he said. "Can I fire my barrage of questions at you? What do we need to do to have every single bus in the state run on hydrogen?"
The answer was legislation and a regulatory framework to govern the energy transition. The people at the meeting suggested that the state government should take the first step by introducing a hydrogen-powered fleet to stimulate demand, since the technology exists and will be tested commercially.
"Right then," Freitas said. "We'll bring in legislation and regulatory structures, and we'll support hydrogen production to assure scale. We'll do what it takes to make São Paulo the leader of the energy transition that will reduce our carbon footprint and act as an example of sustainability and the circular economy. I'm very pleased to see the effort, talent and creativity of our researchers in São Paulo and Brazil.
"The world is facing great uncertainty due to COVID-19 and the war in Ukraine. The world will want reliable partners, especially in energy. Brazil is a reliable partner, and obviously São Paulo can lead this. We have what the world needs."
How it works
Hydrogen reforming in this case uses second-generation ethanol – cellulosic ethanol obtained from sugarcane trash and bagasse. 2G ethanol is a hydrocarbon comprising atoms of carbon and hydrogen. "Ethanol reacts with water in the reformer to break down into hydrogen and carbon monoxide, which in another reaction with more water becomes CO2," said Daniel Lopes, commercial director of Hytron, the firm that makes the reformers. Founded in 2004, it has received funding three times (05/50908-2, 08/52109-8 and 14/50183-7) under the aegis of the FAPESP Innovative Research in Small Business Program (PIPE).
"The machine produces a very large amount of unpurified hydrogen in the first stage. In the second stage, the hydrogen leaves our machine with 99.999% purity," Lopes said.
Hytron's technology differs from the far more expensive traditional method of hydrogen production via water electrolysis, where hydrogen is extracted from water (H2O) by electricity.
For the first time worldwide, RCGI's new plant will produce hydrogen from ethanol to power electric vehicles (EVs). "These EVs will emit only water," Lopes said.
The ethanol will be supplied by Raízen, the global leader in ethanol production from sugarcane.
Computer simulations to make the reformers more efficient by raising the rate of ethanol conversion to hydrogen will be led by the Institute for Innovation in Biosynthetics and Fibers linked to SENAI, the National Service of Industrial Training.
The hydrogen produced by the plant will power campus buses owned by São Paulo's metropolitan mass transit corporation, EMTU/SP, a state-owned enterprise.
To test its performance, Toyota has gifted a Mirai, the world's first mass-produced fuel cell electric sedan. Fuel cell EVs are powered by compressed hydrogen gas that feeds into an onboard fuel cell stack, which converts the fuel's chemical energy into electrical energy. This electricity then powers the car's electric motors.