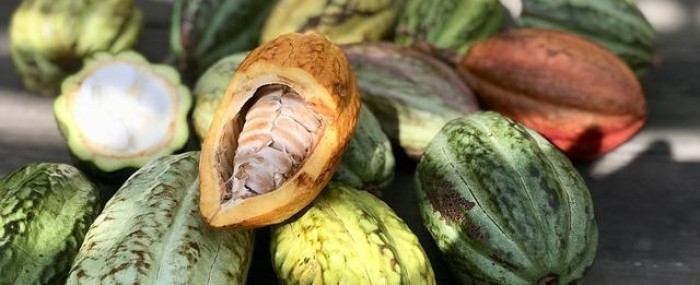 A startup supported by FAPESP has developed a face cream and body lotion based on cocoa juice, which is usually thrown away. The entrepreneur has been selected for the 2022 Leaders in Innovation Fellowships training program in the UK (photo: Pixabay)
Waste from cocoa processing converted into raw material for cosmetics
10 de maio de 2022
By Elton Alisson | FAPESP Innovative R&D – As part of his PhD research at the University of Campinas (UNICAMP) in São Paulo state, Brazil, in which he characterized the main microorganisms that cause disease in the Cocoa tree (Theobroma cacao L.), chemist Fábio Neves dos Santos visited farms in the Ilhéus region of Bahia state and noticed that that, when extracting beans that serve as raw material for chocolate from the pulp inside pods, most of the juice produced in the process was considered waste and thrown away.
"A very small fraction of this juice, which is sweet and known in Bahia as cocoa honey, is consumed as a drink in the southern part of the state, which is Brazil's largest cocoa producer. The rest is simply dumped," Santos told Innovative R&D.
He analyzed the liquid and found it to be low in viscosity and to contain large amounts of sugars, especially glucose, fructose and sucrose. He concluded that it was an antioxidant owing to the bioactive organic compounds it contained, alongside dietary fiber, vitamin C and essential minerals, such as potassium, sodium, calcium, iron, manganese and zinc, and could therefore be used as an ingredient in cosmetics as well as food products.
Inspired by these findings, Santos started a company called Cacaus Biocosmetics to develop a new generation of cosmetics with antioxidant, anti-microbial and anti-inflammatory properties due to cocoa honey.
In a project supported by the FAPESP Innovative Research in Small Business Program (PIPE), the startup has developed a face cream and moisturizing body lotion based on cocoa honey.
"In laboratory tests using a cellular model, cocoa honey and cosmetics containing this raw material didn't irritate the skin. In addition, they promoted cell regeneration," Santos said.
His next steps will include raising funds for clinical trials to prove the antioxidant and skin regenerative properties of the products so as to win approval from ANVISA, Brazil's health surveillance agency, claiming that they delay aging of the skin, for example.
First, however, the startup will begin producing and selling the products as Grade 1 cosmetics (such as perfumes, lotions and creams except sunscreens), classified by ANVISA as having basic properties that do not need to be proven initially and do not require the filing of detailed information on mode of use and restrictions.
"We've proved that the products are safe and can be marketed as Grade 1 cosmetics. We've also filed for patents on the formulations. To launch and begin selling quickly, we'll outsource production and market them via e-commerce," Santos said.
Training in the UK
Santos was one of five entrepreneurs selected for the 2022 edition of the Leaders in Innovation Fellowships training program (LIF), and won the Simulation Game at the LIF Brazil In-Country Event. The Simulation Game is a competition in which contestants simulate a business operation via software called SimVenture Evolution, which mimics real-world technology solution parameters such as research and development (R&D), production, sales, marketing and financing, among others.
Offered by the United Kingdom's Royal Academy of Engineering (RAE), with support from the Newton Fund, LIF works to build researchers' commercialization capacity and help them contribute to the economic and social development of their countries.
The initiative is aimed at researchers in RAE partner countries who are in the process of developing a business proposition for their innovation. The selected entrepreneurs take an immersive course in the UK and develop a plan to commercialize their innovation with the program's support. In the long run, they gain access to an international network of innovators and mentors for support in implementing their business plan.
"Participating in LIF will be very important and a leg up in the current stage of our project, which entails taking our products to market. The network of mentors provided by the program will help us move ahead on the commercialization plan," Santos said.
Seventy researchers in ten countries were selected for this year's edition. FAPESP is responsible for selecting participants in Brazil.
"The main selection criterion for participation in the program is application quality. Country vacancies aren't filled via a quota system. We select the best five applications from each participating country," said Gaelle Elisha, Program Manager, Entrepreneurship for Development, Royal Academy of Engineering.
The other four Brazilian representatives selected for the 2022 edition are Marina Trevelin Souza, who is developing a novel bioactive glass to accelerate cell proliferation and healing of damaged tissue; Thomaz Augusto Guisard Restivo, who is using metallic diamonds and byproducts to create building materials with enhanced performance, affordable cost, and reduced environmental impact; Gustavo de Souza, who is producing an innovative biodegradable packaging material that eliminates the need for multilayered plastic without shortening the shelf life of food products; and Marzieh Kadirav, who is creating high-performance materials made from natural bamboo using a zero-waste process to address construction-related environmental concerns.