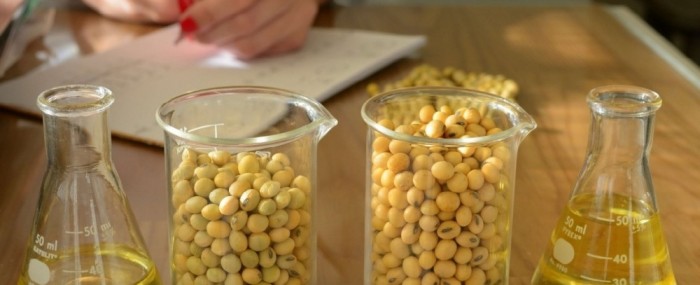 Brazilian and Dutch researchers have developed a technique for early identification of soybean genotypes that are unlikely to form green seeds, which cannot be used to produce oil (photo: researcher's archive)
Technology to select soybean varieties with higher-quality seeds
06 de dezembro de 2022
By Elton Alisson | FAPESP Innovative R&D – Global climate change is posing new challenges for soybean growers, who report substantial crop losses. One such challenge is the green seed problem. To be saleable, soybeans for use as feed and oil must be yellow. Soybeans that are green instead of yellow at harvest time have retained chlorophyll owing to weather variations in the field, including extreme temperatures and lack of rain during the pod-fill stage, as well as genetic factors, explains Edvaldo Aparecido Amaral da Silva, a professor at São Paulo State University's School of Agricultural Science (FCA-UNESP) in Botucatu.
"The green seed problem causes losses corresponding to 10% of the soybean crop annually, or 36 million metric tons, worth some US$12 billion," Amaral da Silva said during a workshop held by FAPESP and the Dutch Research Council (NWO) on November 25, 2022, to present the results of projects funded jointly by the two organizations in recent years.
Under the auspices of a project selected in one of their joint calls for bioeconomy research proposals, Amaral da Silva established a collaboration with colleagues at Wageningen University and Research (WUR) in the Netherlands and EMBRAPA Soja, the soybean unit of the Brazilian Agricultural Research Corporation (EMBRAPA). The aim was to help solve the green seed problem by investigating the basic mechanisms associated with the degradation of chlorophyll in oilseed crops.
The project resulted in the detection of molecular markers known as "snips", or single nucleotide polymorphs (SNPs), for early selection of green seed tolerant soybean genotypes. To develop the technology, the researchers analyzed all 60,000-odd genes in the plant's genome and found ten candidate genes, one of which proved to be the most promising to avoid the green seed problem.
"We expect to cut the time it takes to obtain a new cultivar that does not develop the green seed problem from 13 years to six years," Amaral da Silva said.
Scientific cooperation agreement renewed
FAPESP and NWO have had a scientific cooperation agreement since 2012. It was renewed for another five years in early November. Its purpose is to foster collaboration in long-term research between Brazil and the Netherlands by funding joint projects that strengthen both countries' international positions in science and the global impact of the results.
Funding is awarded to interdisciplinary and transdisciplinary consortia based in São Paulo state and Dutch research groups. To be supported, projects must be aligned with the national research agendas and international initiatives such as the UN's Sustainable Development Goals (SDGs).
"Collaboration with NWO is one of our most strategic international partnerships," said Luiz Eugênio Mello, FAPESP's Scientific Director. "Renewal of the agreement for the second time is a reflection of the success of this collaboration. We've issued calls for proposals almost every year. Both agencies keep a close watch on the projects we support, holding meetings to facilitate learning and an exchange of experiences. In addition to bilateral calls, we work together as members of the Global Research Council [GRC, a virtual organization comprising the heads of more than 60 funding agencies], and will co-host the GRC's Annual Meeting at the Hague in 2023."
In August, the two agencies issued their ninth call for joint research proposals. The focus for this call was Engineered Biomaterials: Advanced Health Materials.
"We previously issued three calls for bioeconomy projects with an explicitly transdisciplinary approach, meaning we want researchers to work with governments, NGOs and industrial or social partners of other kinds to ensure that the research results have a significant impact," Anita Hardon, a member of NWO's Executive Board, said in opening remarks to the workshop.