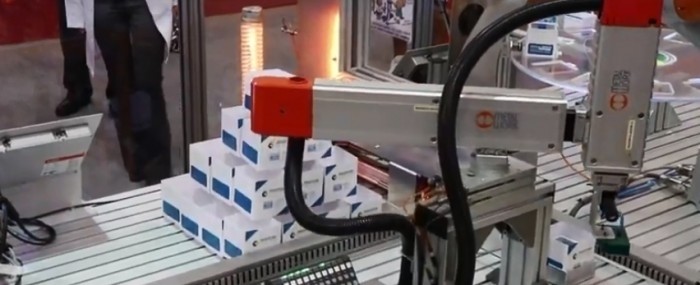 Manufacturing execution system (MES) technology enables firms to implement industry 4.0 (photo: PPI-Multitask)
Startups supported by FAPESP's small business innovative research program are targeted for acquisition
08 de dezembro de 2020
By Yuri Vasconcelos and Domingos Zaparolli * | FAPESP Innovative R&D – The startup MVisia, based in São Paulo City, Brazil, specializes in artificial intelligence (AI) systems applied to industrial computer vision. PPI-Multitask, also based in São Paulo, develops manufacturing execution system (MES) platforms to control production on the factory floor. Both firms received investments from FAPESP's Innovative Research in Small Business Program (PIPE) to develop their technological solutions, and a controlling stake in both has recently been bought by Brazilian multinational Weg, one of the world's leading manufacturers of industrial electric motors and power generators.
"The deal took MVisia to a new level," says founding partner Fernando Lopes. "We now have a sales and marketing structure it would have taken us decades to build. We had few people in our sales force, and now we have over 300 in Brazil and abroad. We've just closed our first sale in Pernambuco [a state in Brazil's Northeast region]."
MVisia was founded in 2012 at the Center for Innovation, Entrepreneurship and Technology (CIETEC), an incubator jointly run by the University of São Paulo (USP) and the Energy and Nuclear Research Institute (IPEN).
All four partners agreed to sell 51% of its equity to Weg in June 2020. "We also gain from the association in terms of governance, management and financial control," Lopes adds.
"Wow, this is great! That was my reaction when I heard Weg was interested," recalls Marcelo Pinto, one of three partners in PPI-Multitask, which was founded in 2000. Weg acquired 51% of the firm in September 2020. "Our goal was to lead the implementation of industry 4.0 in Brazil. We were well aware of our financial and operational limitations as well as our technical qualities. Weg is financially robust, has a sales force and strong management. It also wants to be an industry 4.0 leader."
Other large corporations have acquired tech startups supported by PIPE-FAPESP. In 2005, French aerospace conglomerate Thales acquired Omnisys, a manufacturer of satellite and radar instruments based in São Bernardo do Campo, São Paulo State. In 2011, Embraer bought Atech, a São Paulo-based producer of solutions for civilian and military air traffic management and control, and Bradar (formerly Orbisat), which specializes in developing electronic systems and sensors, such as defense radars for ground and air surveillance.
Five years later Akaer, a Brazilian supplier of aerospace systems and components headquartered in São José dos Campos, bought São Carlos-based Opto Eletrônica, a manufacturer of optronics systems and space cameras. Akaer participated in the Gripen fighter aircraft project. In 2017, it acquired a controlling stake in Equatorial Sistemas, a producer of technological solutions for space, defense and security systems.
Observation of the startup ecosystem in Brazil shows that many of these firms are changing hands at a gathering pace. At least 100 startups were fully or partially acquired between January and September 2020, up from 63 in all of 2019, according to Distrito, an innovation support platform.
PPI-Multitask and MVisia have kept their brands, teams and head offices in São Paulo City. The founding partners continue to run the day-to-day affairs of the respective businesses. What has changed in the organizational structure is the presence of a representative of Weg on the boards of both companies, and the requirement that they align with the multinational's corporate strategy. "Weg didn't literally take over PPI-Multitask," Pinto says. "We've kept our operational independence, and long-term decisions are the result of a participatory governance system in which we have a voice."
Weg's decision to acquire PPI-Multitask and MVisia in less than a year was motivated by a desire to speed up the development of its digital business division, set up a year earlier. Two other tech startups – V2COM, a São Paulo-based firm specializing in connectivity and the Internet of Things (IoT), and BirminD in Sorocaba, offering AI-based industrial analytics solutions – were also bought by Weg for the same purpose.
"The firms complemented our portfolio of digital solutions with mature and tested technologies," says Carlos Bastos Grillo, Digital Business Director at Weg, whose headquarters are located at Jaraguá do Sul, Santa Catarina State. "The sharing of knowledge and resources between Weg and these four firms has created new opportunities for innovation and a more complete offering of solutions for our customers."
Innovation experts note that mergers, acquisitions and other forms of interaction between large corporations and innovative startups are increasingly frequent in Brazil, as they have been for some time in the US, and that this is good news. "It's important for entrepreneurs to have various opportunities to be rewarded for their efforts, be it financially or otherwise. This strengthens the innovation ecosystem," says food engineer Luciana Hashiba, Vice Coordinator of the Center for Innovation at Getúlio Vargas Foundation's São Paulo Business School (FGV-EAESP) and a member of the Research for Innovation Adjunct Panel advising FAPESP's Scientific Directorate.
For chemical engineer Américo Craveiro, also an Adjunct Panel member, interest in innovative small firms on the part of large corporations should be seen as a measure of the PIPE program's success. "It means the entrepreneurs who receive funding have done well in surmounting technical challenges and validated their business proposition," he says.
In these cases, critics say, products developed with public money from a fund to support innovation are sold not by their creators but by third parties. This is of secondary importance, according to Hashiba and Craveiro.
"What matters most is not letting the effort die during the tough process of converting an idea into a successful business venture," Hashiba says.
"It's the end result that matters," Craveiro argues. "Support for technology should add value for society and assure an economic and social return on the investment."
For César Costa, managing partner of Semente Negócios, a business innovation and entrepreneurship consulting firm, large corporations typically acquire startups to accelerate a strategy. "It may be penetrating new markets, diversifying the product portfolio, incorporating new technology or capturing talent," he says.
Most acquisitions aim at the target's market share, successful products or physical structure. In the case of a startup, the key asset is usually the entrepreneurs' innovative capacity.
One of the main challenges involved in acquiring an innovative startup, in Costa's view, is maintaining the founders' knowledge and missionary zeal. "The acquisition agreement itself often contains clauses requiring the entrepreneurs to stay on for a period," he says. "This is done to prevent their departure from having a negative impact on the evolution of the business."
Eduardo Zancul, a professor at the University of São Paulo's Engineering School (POLI-USP) and also a member of FAPESP's Adjunct Panel, underscores the difficulties small firms face in establishing themselves. "A severe crisis or changing competition parameters can affect them, and even force them out of business. Small firms are fragile and unstable," he says.
This is particularly the case in a country like Brazil, where private credit has historically been expensive and annual economic growth fluctuates so sharply that corporate planning is hard, if not impossible. In the past two decades, Brazil has enjoyed ten years of modest growth and six of fairly strong growth (4% or more), but also suffered from four years of negative growth (2009, 2015, 2016 and 2020), according to IBGE, the national statistics bureau. IPEA, a federal government think tank, is currently projecting a 5% GDP contraction in 2020.
"Firms want to grow in order to become sounder. Growth requires capital, knowledge, access to distribution and customers," Zancul says. "A small firm takes longer to achieve this solidity on its own."
There are a few ways to speed this process up, he adds. One is finding investors. Another is merging with other small firms to try to build a larger business. A third is being taken over. "Acquisition by a larger firm can also be a way for a small firm to grow," he says.
Success with IVF
In-Vitro Brasil (IVB), based in Mogi Mirim, was founded in 2002 and soon became a major success in its market of choice. Before being sold in 2015 to ABS Global, a division of Genus plc, it was already the world leader of commercial bovine in vitro fertilization (IVF), accounting in 2013 for 45% of global embryo production, and the benchmark for embryo cryopreservation, a technology developed with support from PIPE-FAPESP.
"We were the leader in bovine IVF but compared with the genetics giants we were too small to compete on the animal assisted reproduction market," says veterinarian José Henrique Pontes, founding partner of IVB and now ABS's global head of embryo strategy.
According to Pontes, Genus plc's capacity to invest in R&D was a decisive factor in the sale. "The group invests more than USD 50 million per year in R&D, with a significant proportion going to biotechnology and IVF," he says. Until it acquired IVB, ABS Global specialized in artificial insemination using an advanced sexed semen separation technique that let breeders choose the sex of an animal's offspring.
"Acquisition of an embryo supplier like IVB was need to complete our portfolio," says Márcio Nery, managing director of ABS Brasil. "Frozen embryo technology is the future and was decisive to the group's interest in IVB."
ABS has six laboratories in the US, one in Mexico and three in Brazil. Brazilian technicians, according to Nery, are responsible for its international experimental laboratory projects in embryos. "We have teams working in Russia, Vietnam and Chile. We may also start operating in India," he says. ABS Brazil has 120 Brazilian embryo technicians, twice as many as IVB's original team in 2015.
According to consultant César Costa, a frequent practice in this market is partial acquisition of a startup, maintaining the interest of the original entrepreneurs in the success of the firm and introducing forms of governance that allow them to make decisions autonomously. The manager of the startup often reports directly to the CEO or board of the new parent company.
This is what happened to Scipopulis, a São Paulo-based startup specializing in urban mobility data analysis and solutions, acquired by green4T in 2019. "We didn't want to convert Scipopulis into green4T, but rather to maintain their innovative culture," says Eduardo Marini, CEO of green4T, a supplier of digital infrastructure solutions also based in São Paulo. "In one of the first rounds of talks we insisted on ensuring they'd keep their brand and operational independence. They wouldn't have a boss from outside giving orders." Another concern, Marini adds, was creating a workplace climate that welcomed the new team of ten professionals.
"We were indeed afraid of becoming bureaucrats and doing what we were told. The decisive factor in agreeing the deal was the alignment of business propositions," recalls Roberto Speicys, one of Scipopulis's four founding partners. They became shareholders in green4T, and Speicys stayed on as CEO of Scipopulis. All four signed up to the deal, but two later left to start new business ventures.
For Marini, acquiring Scipopulis was an opportunity for green4T to expand its portfolio of smart city solutions. The startup was founded in 2014, and funding via PIPE-FAPESP was fundamental to the development of two solutions: Coletivo, an app that gives users real-time information on buses and other forms of public transport, and Trancity, a bus monitoring and management dashboard for fleet and city managers.
The solutions are available only in São Paulo City right now. "It's hard for a startup to participate in public tenders for contracts and negotiate with city hall, whereas green4T has plenty of experience and expertise in this respect," Speicys says.
Trancity is in use in several Brazilian state capitals (Belo Horizonte, Rio de Janeiro, Teresina and Fortaleza), as well as Santiago, Chile. The new prospects are not confined to the transport sector. "Our business is developing technological solutions based on data analysis. We've studied possibilities in healthcare and law enforcement, as well as other urban mobility applications," Speicys says. "Being part of green4T's portfolio will undoubtedly enable us to accelerate these new projects."
* Pesquisa FAPESP magazine