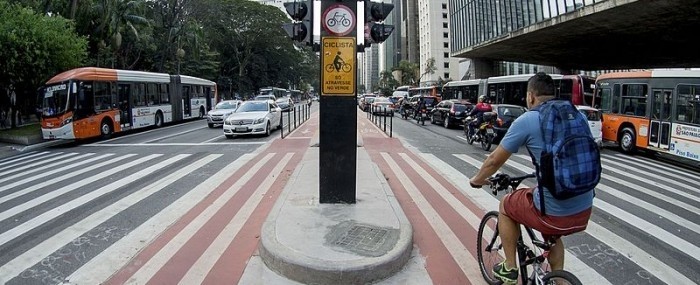 Device called SmartBike records speed, mileage and other data; identifies location, acting as a tracking system; and connects bikes wirelessly to the internet (photo: Marcelo Camargo/ABr/Wikimedia Commons)
Startup uses IoT for bike path monitoring
12 de fevereiro de 2019
By Suzel Tunes | FAPESP Research for Innovation – Pullup, a Brazilian startup that provides consulting and other services in electronic engineering, is using technology based on the Internet of Things (IoT) to address the challenges of urban mobility. It has created a system comprising hardware and software designed to make city cycling safer and more efficient.
The project was selected in a 2016 call for proposals on Smart Cities-Sustainable Cities issued under the aegis of the PIPE/PAPPE Grant Program, which combines funding from FAPESP's Innovative Research in Small Business Program (PIPE) and FINEP, the federal government's innovation agency.
According to electrical engineer Conrado Leite de Vitor, a co-founder of the firm and the principal investigator for the project, a device called SmartBike should be brought to market by June of this year. Vitor explains that the device can be coupled to the handlebars of any type of bicycle to serve as an on-board computer. It records speed, mileage and other data. It also identifies the bike's location, acting as a tracking system, and connects wirelessly to the internet to receive information of various kinds.
Unlike Wi-Fi and other indoor networks, outdoor wireless networks provide long-distance links (from 2 km to 15 km) and require relatively little power. "Technologies like SigFox, for example, are already available in all state capitals and are extensively used in IoT-based smart city solutions," Vitor says. "The bike sensors will leverage this technology to send luminosity, humidity, acceleration and other data to our system in the cloud."
SmartBike will be able to tell users whether a bike path is dark, for example, or has puddles (thanks to its ground moisture sensor) or potholes (thanks to its vibration accelerometer). Another feature will be GPS-based route planning.
"The scope is flexible," Vitor says. "New functions can be added in response to demand."
Pullup and its incubator's innovation agency (Agência USP de Inovação, affiliated with the University of São Paulo) have applied for a patent. The technology will be offered to bike rental firms. According to Vitor, the tracking systems typically used in bike sharing schemes provide little more than security and theft prevention.
"To our knowledge, there are no devices that currently integrate all of the functionalities of our project, in Brazil or elsewhere," he says. To reach out to this market, however, the strategy is to start by selling SmartBike directly to cyclists. "We plan to attract people who have a bike and like technology."
Academic roots
Vitor recalls that the SmartBike project and Pullup (founded in 2012) were both born at the Microelectronics Laboratory (LME) in USP's Engineering School (POLI-USP) during his undergraduate studies in electrical engineering. Both were supported by Marcelo Carreño, a professor in POLI-USP's Electronic Systems Engineering Department. "In a way, our firm is a spinoff from LME," he says.
The partnership with the University of São Paulo continues. Pullup is now hosted by its incubator, the Center for Innovation, Entrepreneurship and Technology (CIETEC), and is staffed by nine of its first- and second-degree students. In addition to Conrado Leite de Vitor, the firm is co-owned by computer engineer Giuliano Leite de Vitor and electrical engineer Paula Gomez.
The firm has thus far focused on industrial automation, implementing IoT-based solutions in equipment and production processes, and on biomedicine and laboratory equipment. According to Vitor, the SmartBike project began some two years ago at LME. "Professor Carreño wanted to develop a project with his students in partnership with Pullup, and we suggested one linked to urban mobility," he recalls.
Two LME students, Rafael Mosna and Marcelo Daher, accepted the challenge. Both are now engineers and part of the team at Pullup. Vitor says that initially the project was an electronic display with promotional messages to be affixed to bicycle wheels. "As the wheel turned, it would display what's known as POV [persistence of vision] images, in which a sequence of images creates the illusion of movement," he explains.
After talking to potential customers, however, the startup's founders concluded that the idea would not arouse consumer interest. The project was reformulated and eventually became SmartBike. The possibility of its use as a marketing tool remains. The system can be tweaked to receive promotional messages emitted by beacons installed in commercial establishments located near a bike path.
"The cyclist can have the device show coffee shops or places of cultural interest along the route, for example," Vitor says. "We want the system to offer useful information that will help encourage more people to cycle and thereby improve urban mobility."
Company: Pullup
Site: www.pullup.com.br
Address: Av. Professor Lineu Prestes, 2242, Cidade Universitária/IPEN, São Paulo City, 05508-000
Tel: +55 11 3039-8311
Contact: www.pullup.com.br/atendimento-por-email.php