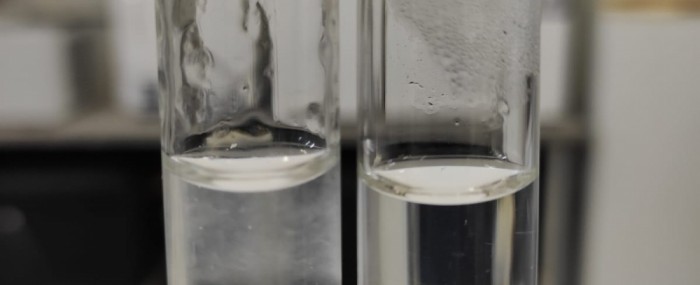 The global market for dermal fillers is expected to reach USD 9.4 billion by 2028. The technique consists of injecting hyaluronic acid into the region to be treated (photo: BioSmart Nano)
Startup uses eggshells as raw material for next-generation dermal filler
30 de novembro de 2021
By Fábio de Castro | FAPESP Innovative R&D – Dermal filling involving facial injections of hyaluronic acid is a widely used procedure to treat wrinkles, scars and skin grooves, with a global market projected to reach USD 9.4 billion by 2028. An innovation developed by the Brazilian startup BioSmart Nano will help bring to this market a product that will pave the way for the next generation of dermal fillers.
In a project supported by the FAPESP Innovative Research in Small Business Program (PIPE), the startup developed a process to extract high-purity hyaluronic acid from eggshells as a raw material for the production of a novel dermal gel. It has partnered with entities in Canada's public and private sectors to develop a process to stabilize hyaluronic acid using an innovative component.
According to Hélida Barud, CEO of BioSmart Nano, the novel stabilization process lets the gel remain in tissue for longer with the ideal degree of viscosity, which is of vital importance to dermal fillers.
"The filler is a gel, and won't produce the right support if it flows too freely. On the other hand, if the viscosity is too high, it won't pass through the needle and can't be applied," Barud explains.
BioSmart Nano was founded in Araraquara, São Paulo state, in 2016. Since 2018 it has had several projects approved by PIPE, including the hyaluronic acid technology development project.
"In the case of this project, PIPE Phase 1 in 2018 and Phase 2, which is ongoing, were dedicated to developing an innovative raw material extraction route using eggshells," Barud says. "Beginning in October 2020, the technology has also focused on obtaining a differentiated product in conjunction with our Canadian partners."
According to Barud, the first step, which was development of the novel raw material extraction route, was fundamental because there are no Brazilian firms that produce hyaluronic acid, which has to be imported from China.
"The problem is that quality control in China isn't as strict as that of ANVISA [the agency responsible for regulating medications in Brazil]. The hyaluronic acid produced in China can contain impurities. If it's used to formulate a dermal filler, this can result in tissue inflammation, infection and even necrosis," she says.
Extraction of the compound from eggshells requires decalcification, which by the conventional method involves the use of many acids and solvents. These are eventually removed to produce high-purity hyaluronic acid, but the resulting waste can be a source of pollution.
"We succeeded in designing a process that uses more organic solvents, which aren't so aggressive and don't leave environmentally harmful residues. With this novel extraction method, we have a 'green route' to the production of hyaluronic acid," Barud says.
International partnership
In 2020, BioSmart Nano won approval for a project to be conducted in partnership with a Canadian firm from the National Research Council of Canada's Industrial Research Assistance Program (NRC-IRAP), which was looking for a highly qualified Brazilian startup for this purpose.
According to Barud, PIPE Phase 2 approval was crucial to the Canadian government's decision to support the partnership. "FAPESP is very serious in its selection processes, and we were already used to the strict parameters, so we were able to meet all the requirements," she says.
The goal of the project, she explains, is to formulate a novel filler gel based on hyaluronic acid extracted from eggshells and stabilized with an innovative component patented by Cohesys, the Canadian partner.
"This Canadian firm has patented a degradable biopolymer that can be used for bone and tissue repair, acting as a sort of 'bone glue'. There are products based on this material on the market, but we saw a need for diversification," Barud says.
The project supported by PIPE-FAPESP is scheduled to end in 2022, and the partnership with Canada will last until 2023.
"The idea is to include the Canadian firm's biopolymer into our hyaluronic acid production line in order to stabilize the gel and obtain a differentiated formulation for a next-generation dermal filler that provides better tissue support and enhanced biotoxicity properties, while also avoiding local inflammation," Barud says.
Despite delays due to the COVID-19 pandemic, she adds, the project is nearing completion. "We're already at the formulation testing stage. We plan to perform toxicity tests in the first quarter of 2022. The next step after that will be clinical trials in animals," she says.
In this process, BioSmart Nano has won an important investor thanks to the innovativeness of its projects. In June 2020, it joined forces with Seven Biotecnologia and became part of the Seven Group, whose management expertise and solidity will guarantee support for the startup in the legal and accounting areas. It will also be able to take on board two more employees as a result.
When the project reaches the validation stage and applies for regulatory approval, costs will rise exponentially. "We expect to spend about BRL 500,000 just to win approval from ANVISA," Barud says. "While the funding from FAPESP has been vital for us to begin the project and consolidate the scientific part, we'll have to pursue new avenues and try to attract more investors."
The plan is to bring the novel filler gel to market in 2024. This will have to be preceded by animal testing, scale-up and marketing. "We've realized it might have been easier to apply to the FDA [the agency that regulates pharmaceuticals in the US] and then apply to ANVISA. We still have a long way to go, but the top priority now is to consolidate the scientific part. We'd prefer to market the product ourselves, but we may conclude that won't be worth doing. If so, we could think about other possibilities, such as technology transfer," Barud says.