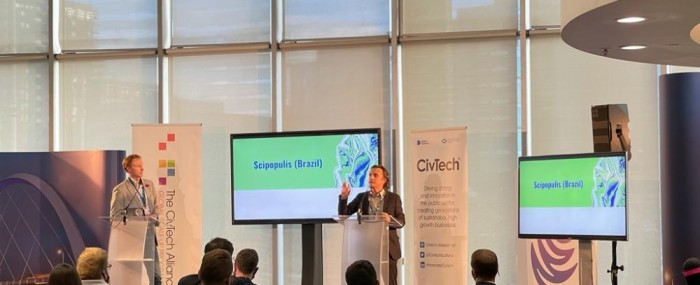 Scipopulis was one of five Brazilian startups selected to participate in a program designed to help innovative fast-growth tech firms implement solutions that mitigate the adverse effects of climate change (photo: Scipopulis)
Startup supported by FAPESP pitches bus fleet decarbonizing tool at COP26
24 de novembro de 2021
By Elton Alisson | FAPESP Innovative R&D – Like other parts of the world, Scotland, where the COP26 UN Climate Change Conference took place in Glasgow from October 31 to November 13, is planning to electrify its fleet of some 5,000 buses to eliminate greenhouse gas emissions in public transport. Among the solutions that will be studied by its bus fleet managers to facilitate the transition is a platform developed by Scipopulis, a Brazilian startup based in São Paulo, via projects supported by the FAPESP Innovative Research in Small Business Program (PIPE).
The platform, called Trancity, converts large mass transit operational databases into maps and graphs to assist urban mobility management. It can be used to assess the environmental impact of bus lanes and the travel time they save and to estimate the amount of battery power required to operate an electric fleet, for example.
"The platform helps managers plan the transition from diesel to electric buses, estimating the investment and number of vehicles required, indicating which garages to electrify, and showing whether the power supply will be sufficient for the fleet, among other items," Roberto Speicys, co-founder of Scipopulis, told Innovative R&D. The firm is part of the green4T group.
Trancity has been implemented in some of South America's largest cities, such as São Paulo, Rio de Janeiro and Belo Horizonte in Brazil, and Santiago in Chile.
In recent weeks the platform has been pitched to representatives of bodies responsible for managing public transport in several countries. On November 3 it was presented to civil society leaders, politicians and major investors at COP26.
"We've had opportunities to pitch Trancity to authorities responsible for decarbonizing urban transit systems in Scotland, Poland, the United States, Australia, Denmark, Germany, Spain, Estonia and Lithuania, where we start a pilot project in a few weeks' time," Speicys said.
International validation
Scipopulis was one of five Brazilian startups selected to participate in the CivTech Alliance COP26 Global Scale-up Program. The others were Eco Panplas, Tesouro Verde, Um Grau e Meio, and Lemobs.
The CivTech Alliance was formed in Scotland and is now a worldwide network of public, private and third-sector organizations working to develop innovative products and services that make citizens' lives better. The scale-up program aims at solutions to mitigate the impact of climate change, including environmental resilience, food wastage and decarbonization of commercial vehicles. The COP26 initiative involved eight governments and three academic institutions in ten countries, in collaboration with the United Nations Development Program (UNDP), the World Resources Institute, and Michelin Scotland Innovation Parc.
CivTech's members in Brazil include InvestSP, an arm of the São Paulo State Department of Finance and Planning; IdeiaGov, an innovation hub led by the state's Departments of Economic Development and Government, with the Office of the State Attorney General; and BrazilLAB, a hub that connects entrepreneurs and government. These three agencies selected the startups for the program out of 26 applicants, more than in any other country. A total of 18 startups took part in Glasgow.
To be selected, the firms had to have developed solutions for one of the three challenges mentioned above (environmental resilience, food wastage and decarbonization of commercial vehicles). In addition to innovation and market potential, the final selection stage considered the collective capabilities of the team, the firm's maturity, and its availability to participate in next steps.
"Our aim in participating in the program is to validate our solution in cities outside South America, where we already operate," Speicys said. "Most major cities worldwide are setting decarbonization goals for mass transit. We want to seize this opportunity."
New functionality
Development of the platform began in 2014, initially for bus route planning and government oversight of concessionaires. As it was implemented in more cities, urban transport managers found new needs and the platform was given additional functionality.
"We steadily understood more about the difficulties of planning mass transit, and added functionality to the platform to help managers in this task," Speicys said.
In partnership with mass transit managers in Santiago, the firm's data scientists developed a synoptic panel to track buses in real time, and to display their speed and the time estimated to reach stops. The overall aim is to control the distance between buses and keep the operation regular.
"Bus lines have to run like a carousel," Speicys said. "The interval between them must be regular so that passengers know how long they'll have to wait and won't try to board a bus that's already full."
Partnering with mass transit managers in Belo Horizonte and Rio de Janeiro, the firm used the platform to estimate the environmental impact of buses and the effect of bus lanes on traffic flows. Besides operational gains, such as faster speeds, shorter trip times, improved quality of service, and more frequent buses without fleet expansion, the introduction of bus lanes reduced greenhouse gas emissions. "Buses running faster in exclusive lanes or corridors emit less pollution," Speicys said.
The platform also pinpoints bus routes along streets and roads blocked by stormwater flooding so that mass transit managers in both cities can operate networks efficiently on rainy days (more at: pesquisaparainovacao.fapesp.br/1311).
Belo Horizonte, for example, was hard hit by monsoon-like rain in the summer before the advent of the COVID-19 pandemic, with flooding in areas of the city that had never suffered from the problem before. "Boulevards and major arteries were under water for the first time in history, taking managers by surprise," Speicys recalled. Extreme weather events are set to become more and more frequent, so cities must adapt their transportation infrastructure to mitigate the impact of rainstorms.
"We're partnering with Climatempo [a digital weather forecasting company] to integrate storm warnings into our platform. Users will see which bus lines risk being affected in real time," Speicys said.