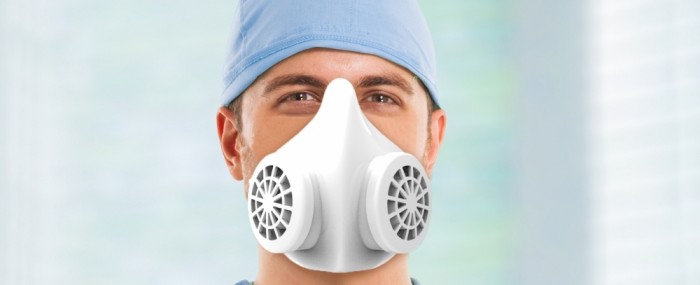 Developed with FAPESP's support via PIPE, the N95-type respirator is made of material containing silica-silver microparticles with antimicrobial and antifungal properties that hinder surface adhesion by SARS-CoV-2 (photo: Nanox)
Startup develops reusable mask with enhanced protection against novel coronavirus
28 de abril de 2020
By Elton Alisson | Agência FAPESP – Nanox, a startup based in São Carlos, in the state of São Paulo, Brazil, has partnered with plastic toy maker Elka to develop a reusable mask that promises to confer a higher level of protection against contamination by the coronavirus SARS-CoV-2.
The mask is made of a flexible polymer similar to rubber, is moldable to the contours of the face, and has a surface layer of silica and silver microparticles.
Developed in projects funded by the FAPESP Innovative Research in Small Business Program (PIPE), the particles have antimicrobial properties.
"The silica-silver microparticles raise the level of protection by keeping the mask free of fungi and bacteria, which can facilitate viral adhesion to the surface of materials," Nanox CEO Luiz Gustavo Pagotto Simões told Agência FAPESP.
To guarantee protection against SARS-CoV-2, the mask is totally sterilizable by washing with soap and water before and after use. It has two disposable filters classified as FFP2, similar to the N95 filters in facepiece respirators used by healthcare workers. The filters are placed inside exhalation valves on the sides of the mask and protected by covers that prevent contamination by direct hand contact. The amount of material required to produce the filters is far smaller than the amount used to produce conventional masks, according to Simões.
"Health services must determine how long the filters can be used before being replaced," he said.
The filters comply with the Brazilian health ministry's requirements for raw materials used in externally worn disposable absorbent products, he added.
The product has passed bacterial filtration efficiency (BFE) tests and achieved the 95% filtration rate required as a minimum for N95 respirators.
"Our goal is to win FFP2 certification, the European standard equivalent to N95 in the US, but the product can be sold now in Brazil because ANVISA [the national public health surveillance authority] has relaxed some of the rules on personal protective equipment owing to the COVID-19 pandemic. This is also why Elka can manufacture the masks," Simões said.
The first batch produced will comprise 200,000 masks for a unit cost estimated at about four to five dollars and delivery in early May. Elka will donate up to 10% of its mask output to healthcare institutions.
"We received six orders before the official launch of the product," Simões said. "We'll supply the domestic market first. We'd like the general public to wear the mask as well as health workers caring for COVID-19 patients."
According to Simões, although the silica-silver microparticles produced by Nanox have been shown to be effective against certain viruses, there is no proof yet that they directly eliminate SARS-CoV-2. "The microparticles have the potential to act against the coronavirus. We plan to perform tests to prove that they do so," he said.
International connection
Nanox and Elka made first contact through IEC Partners, formerly the International Entrepreneurship Center, a startup accelerator in Boston (USA), where Nanox has a sales office. Elka was looking for a way to use its surplus production capacity to make a product that would contribute to the fight against COVID-19 and heard from IEC about the solutions developed by Nanox.
Nanox was founded in 2004 as a spinoff from the Center for Development of Functional Materials (CDMF), a Research, Innovation and Dissemination Center (RIDC) supported by FAPESP and hosted by the Federal University of São Carlos (UFSCar).
In 2005, the startup submitted its first project to the FAPESP Innovative Research in Small Business Program (PIPE) for the development of technology to coat metallic materials with ceramic films containing silver nanoparticles that impart anti-abrasive and bactericidal properties.
In 2011, the product was ready to be marketed, and Nanox won funding to ramp up production of nanostructured antimicrobial particles from the PIPE/PAPPE program, a partnership between FAPESP and FINEP, a federal government agency.
In 2015, it again won funding from PIPE, this time for a project to develop nanostructured fungicidal materials.
During this trajectory, Nanox has received investment from venture capitalists Jardim Botânico Partners (Novarum Fund), won the FINEP Technological Innovation Award (2007), and attracted customers such as Taiff (hair dryers), Tapetes São Carlos (carpets) and Dabi Atlante (dental chairs), among others.
In the second half of 2019, Nanox was one of 15 startups selected among 1,000 worldwide to participate in a business acceleration program offered in Silicon Valley by the Plug and Play global innovation platform.
Dropbox, PayPal, Danger and Lending Club are only a few of the many well-established corporations that were once startups participating in a Plug and Play accelerator program. "FAPESP's support via the PIPE program was fundamental in helping us get started," Simões said.
For more information about the reusable mask, visit: en.otomask.com.br.