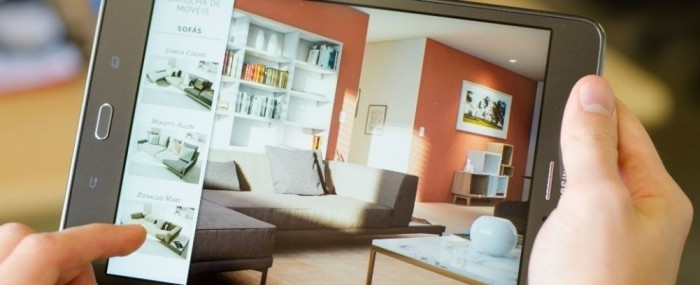 The challenge was to develop a product that offered the same experience as a video game but could be accessed on a mobile device.
Startup develops interactive virtual models for real estate industry
10 de julho de 2018
By Suzel Tunes | FAPESP Research for Innovation – Sureale was founded in 2017 by students who had met at the Federal University of São Carlos's Laboratory for Innovation in Computing & Engineering (LINCE-UFSCar) in São Paulo State, Brazil. The startup is developing its first project on interactive virtual models for real estate marketing with support from FAPESP's Innovative Research in Small Business Program (PIPE).
The idea was born more than ten years ago when Guilherme Picanço Rabello enrolled in the undergraduate course in computer engineering at UFSCar. "I'd worked with artistic 3D modeling since high school, and I wanted to put 3D art together with computing. I just didn't know how," says Rabello, who is the principal investigator for the project.
He worked on the idea during his degree course, via participation in LINCE, and later in computer science research for his master's degree, developing a remotely processed photorealistic 3D rendering system for mobile applications running on tablets and smartphones. "We want the immersive realism of next-generation computer games to be part of the customer's experience in real estate and related markets," Rabello says.
Many real estate developments are marketed on mobile devices using virtual models, he goes on, but these models lack the quality so prized by gamers and technology enthusiasts. "Games are now so realistic that they fool even the trained eye, and gamers value graphics quality highly. We're talking about a 36 billion dollar industry in the US alone in 2017 just in terms of sales of hardware – graphics boards – to make sure gamers enjoy the best possible visual quality," says Rabello, referring to figures from the annual report of the Entertainment Software Association (ESA).
These games, he explains, run on equipment with powerful processors. "They're what we call high-end gaming machines, advanced video game consoles or very powerful computers that consume lots of energy and are heavy and expensive," he says. The challenge he took on board was to develop a product that offered the same experience as a game but could be accessed on a smartphone, tablet or notebook. He solved it with cloud computing.
"We use cloud-based gaming technology with remote processing to enable 3D applications to run on powerful servers in the cloud. This means the quality normally available only from high-end machines can be delivered by any device with internet access," Rabello says.
The product developed by Sureale, he adds, lets the user navigate freely around a property with photorealistic quality, changing the lighting, trying out different decors and fittings, taking measurements, swapping furniture for items sold by the store of their choice, interacting with leisure facilities, and even enjoying the view from a window. "For the seller of the property, the more the buyer interacts with the marketing piece, the better are the chances of conversion into a sale," Rabello says.
3D interactivity could interest other users besides those responsible for marketing real estate. "The project we're developing has the potential to meet the needs of various markets besides real estate, especially those relating to decoration, fixtures and finishes, as well as furniture," Rabello says.
Sureale's owners initially intended to create a product with a wide enough array of functions to meet the needs of several different types of customer. Then, they took part in the Third PIPE Training Course in High-Tech Entrepreneurship, held in May 2017. "We wanted to embrace the world and realized that wasn't the way. With the lessons learned from the training course and interviews with about 100 prospects in these different areas, we began to see that we should focus on a product that would meet the needs of just one industry with excellence – and it should be an industry that was willing to pay for the offering," Rabello says.
For Rabello, the opportunity to participate in the training program was as valuable or more so than the investment received from FAPESP. "The PIPE funding alone wouldn't have been sufficient for us to develop the product and bring it to market," he says. "We were lucky to take the training course very early on in the project. As a result, we were able to adjust the product and make it more efficient."
A leaner product would reach the commercialization stage more quickly and with less investment, he explains, increasing the startup's chances of success. "The opportunity to serve related markets will arise naturally as we build a solid customer base and amass end-users," he says.
In January 2018, Sureale completed its Phase 1 PIPE project with a functional prototype that, according to Rabello, demonstrates its technical feasibility. "We're currently polishing the solution and adding features to make it more robust for the market," he says. This stage of development is internally funded. "Right now, we're in Death Valley," he jokes, referring to the delicate period when a startup still needs capital to develop its project and is unable to begin generating sales revenue for lack of a finished product.
The firm plans to apply again to FAPESP for funding for the second stage of the project but is already reaching out to angel investors for help in the near term. It is also doing product demos for prospective customers and investors, as well as entering competitions to acquire market visibility.
Sureale is currently participating in MoviMente, an initiative of the São Paulo Real Estate Association (SECOVI-SP) designed to foster innovative entrepreneurship via an exchange between startups and incumbents in the property industry. "We're on the shortlist of 20 finalists selected from among 125 competing startups," Rabello rejoices. "We'll take part in a 'pitch battle' (a knockout pitching competition to select the best of several startups), with representatives of the real estate industry on the jury. It will be a venue for us to introduce ourselves to future customers."