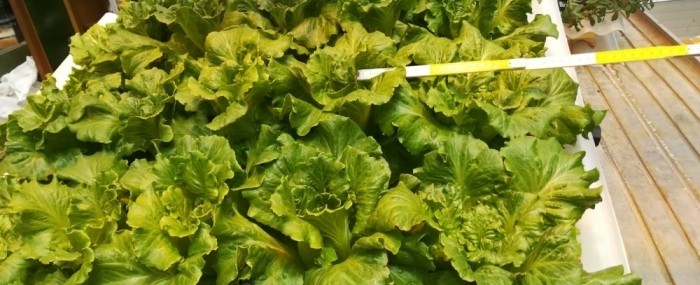 System mimics the functioning of natural living tissue, with a polyurethane core redesigned to allow capillary internal water distribution in a process similar to that in xylem and phloem in plants (photo: Instituto Cidade Jardim)
Startup develops hydroponic roof tiles for the cultivation of ornamental plants or crops
19 de fevereiro de 2019
By Suzel Tunes | FAPESP Research for Innovation – In March 2016, when agronomist Sérgio Rocha saw on FAPESP's website a call for proposals relating to Smart Cities-Sustainable Cities, he was sure this was the opportunity he had been waiting for. "We could take out of 'cold storage' the project we'd patented in 2012, which had hardly evolved at all in four years," says Rocha, co-founder of Instituto Cidade Jardim (the name means "Garden City Institute").
In 2017, the Brazilian startup won approval for a project to develop a green roof system that does not require waterproofing. The firm plans to bring the system to market by mid-2019 with support from the PIPE/PAPPE Grant Program, which combines funding from FAPESP's Innovative Research in Small Business Program (PIPE), and FINEP, the federal government's innovation agency.
Instituto Cidade Jardim has specialized in green roof research, production and dissemination since it was founded ten years ago by Rocha and ecologist Fabiana Scarda. Its clients range from homeowners to large enterprises such as the Pure Island complex (formerly the Olympic Village) in Rio de Janeiro and Hospital da Restinga in Porto Alegre.
"Last year, we planted 200 square meters of wheat on the roof of the winning project at the 2018 Casa Cor show in São Paulo, in partnership with Studio Arthur Casas as architects and Renata Tilli Paisagismo as landscape artists – both leading firms in their respective fields," Rocha says.
The technical characteristics of the conventional roofing model have been an obstacle to the growth of the business. "We've talked to hundreds of potential clients who want to install green roofs but give up when they discover how difficult it is to adapt the typical roof structure comprising timber trusses and ceramic or cement tiles. Our green roof product was inspired by pent-up demand," he says.
Clay roof tiles are heavy, he explains. They weigh approximately 70 kg per square meter (kg/m²). As a result, the conventional roofing system cannot sustain additional static weight. It has to be completely removed and a regular base installed with a waterproof layer before green roofing can be applied.
"This is a worldwide obstacle to the spread of green roof technology," he continues. "Our product is much lighter, weighing approximately 10 kg/m² when dry and 35 kg/m² when water-saturated, with variations depending on the vegetation, so conversion will basically consist of replacing conventional tiles with green roofing."
Initially, the firm's budget was too small for investment in a more capable design and ramped-up production. Funding from the PIPE/PAPPE Grant Program provided the necessary help.
Inspired by nature
Rocha began with thermally insulated tiles containing polystyrene or polyurethane foam, which already existed and were accepted by the market. They were adapted to include a plant cultivation system based on the principles of biomimicry, the design of materials, structures and systems modeled on biological elements and processes.
"We developed a product that mimics natural living tissue such as a plant leaf," he says. The foam core was redesigned to allow the insertion of drip irrigation tubes and capillary internal water distribution throughout the surface in a process similar to the transportation of sap through the xylem and phloem systems to the different parts of a plant.
"On the outside surface of the tiles, we created holes that mimic stomata, the pores in plant tissue that enable gas exchange, for the insertion of seeds and seedlings. The tiles are anchored to metal or wood structures in such a way as to ensure watertightness without the need for a waterproofing membrane," Rocha says.
The new product, called a "cultivable sandwich tile", will be used to grow ornamental plants or food crops by hydroponics, with automated control of irrigation and manuring. Instituto Cidade Jardim has established a partnership with the Sorocaba Engineering School (FACENS) to develop an Internet of Things (IoT)-based smartphone or notebook app that will monitor water and nutrient requirements via sensors installed near the plants' roots.
Cross-border partnerships have also been entered into for the purpose of refining and testing the product. According to Rocha, the results are encouraging. "Our prototypes performed positively in all cultivation tests conducted in Brazil, in Italy [in partnership with the University of Bologna], and in Germany [in partnership with the Green Roof Research Center in Neubrandenburg]," he says.
"The panels have also been approved by the São Paulo State Technological Research Institute (IPT) for watertightness and structural strength. The hydroponic tile doesn't leak, supports the weight of maintenance personnel, is impact-resistant, and can be successfully used to grow extensive green roofs [with ornamental plants in a low-maintenance shallow medium] and urban crops [with intensive maintenance]."
Economizing water and power
According to Rocha, promoting urban agriculture on top of buildings is one of Instituto Cidade Jardim's main goals. "At our corporate headquarters in Itu [São Paulo State], we have a demo area growing grain crops and subsistence horticulture," he says. "We grow table grapes, strawberries, leafy greens, legumes, tubers, herbs, spices and medicinal plants, all on the roof."
The project also calls for other contributions to sustainability in large cities. As green roofing becomes more widespread, Instituto Cidade Jardim expects to help manage resources such as electric power and water.
According to Rocha, green roofing lowers the ambient temperature and reduces the need for indoor climatization. "Large structures like malls and industrial plants consume a lot of power for air conditioning and could save some 7% on their electricity bills," he says.
"Existing green roof systems don't compete in the tile and roofing markets. They're complementary coverings, and so they represent just another item on the budget. Our innovation aims to simplify the process, giving clients the option of installing a green roof just as simply as conventional roof tiles."
Company: Instituto Cidade Jardim
Site: institutocidadejardim.com.br
Address: Rua Jerônimo Gonçalves Meira, 66 – Vila Leis – Itu, São Paulo State, 13309-190
Tels: +55 (11) 2429-4720, +55 (11) 9 8730-1094
Contact: institutocidadejardim.com.br/fale-conosco