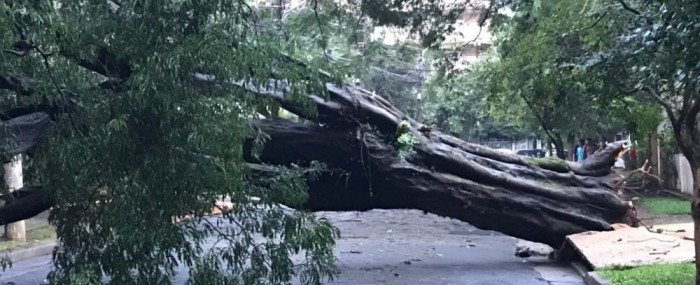 The platform maps trees in a given area and assesses their status, generating data for tablet and smartphone use linked to a control system (photo: Propark)
Software will monitor tree fall hazard
06 de fevereiro de 2018
FAPESP Research for Innovation – The advent of the wet season, with heavy rain and strong winds, is accompanied by a flood of news about fallen trees in urban centers, often due to a lack of proper tree management. In addition to the risk of serious accidents involving people, as well as damage to property, tree falls cause disturbances to the general public by interrupting traffic, power supply and telecommunications.
To minimize risk while at the same time conserving the urban plant heritage, Propark Paisagismo e Ambiente, a firm based in Piracicaba, São Paulo State, Brazil, is developing software designed to assist with tree cover management. "It's a highly useful tool to help local government and private enterprise with decision making regarding urban tree management," says José Flávio Leão, who founded the firm in 1971.
The project is supported by FAPESP's Innovative Research in Small Business Program (PIPE). Stage 1 was completed in 2016, and in November 2017, work began on Stage 2, at the end of which development of the platform, already given the commercial name Arbolink, will be concluded.
With detailed mapping of trees and appropriate management, the technicians believe it will be possible to reduce the number of tree or branch falls in streets, squares and other urban public spaces. "As a result, it will be possible to plan the actions required, such as pruning, fertilizing, cabling, training, surgery, transplanting, and even removal, if absolutely necessary," says Marcelo Leão, director of Propark and principal investigator for the project.
Urban areas offer obstacles to tree survival, mainly owing to narrow sidewalks, interference from overhead cables, improper pruning, and even vandalism. "Investment is needed in these areas because trees are essential to environmental quality in cities, especially those with a warm climate, as they provide shade, reduce heat islands, and beautify the urban landscape," says Leão.
A survey of more than 200 cities and towns in São Paulo State conducted to collect data for the project showed that diagnoses and decisions made by those responsible for administering urban plant heritage are characterized by "a high degree of subjectivity", according to Leão. "The vast majority still use paper and a drawing board, basing management actions on empirical analysis of specimens," he says.
Propark has therefore combined digital technology with Visual Tree Assessment (VTA), an internationally recognized method adapted to Brazilian environmental conditions.
"The software maps the trees in a given area and assesses their status, generating data for tablet and smartphone use linked to a control system that facilitates efficient management of the information obtained in the field," Leão explains.
The data generated is compared with VTA-defined patterns to make a realistic diagnosis of tree status, particularly assessing tree fall hazard. "We're currently in the functionality-testing stage," Leão says. "Our expectation is that the platform will even be able to identify the species of each tree evaluated."
Promising prospects for the technology
Propark specializes in environmental solutions and, since its foundation, has developed rehabilitation projects for degraded areas, as well as supplying macroscale landscaping and urban greening services to both public-sector bodies and businesses. In addition, it plans and establishes conservation units, among other deliverables relating to applied agronomy, landscape enhancement and environmental protection.
"We recently decided to combine innovation with our experience by adding new technologies that are more compatible with the times we live in. The first step was to research and evaluate the world's most advanced tree management systems and adapt them to Brazilian conditions," Leão says.
The Arbolink platform in which the firm is investing is a "new product", he adds. "We don't yet know how significant this innovation will become among the firm's business offerings. Nor have we decided exactly how the platform's use will be priced – probably by licensing plus a maintenance fee. The business plan is under development. The initiative seems to be very promising," he says.
The platform's main customers will be city governments and electric power utilities, according to Leão, but private enterprise could also benefit, including property management and insurance companies, among others. "We expect Arbolink to be available to the market in early 2019," Leão says.
Company: Propark Paisagismo e Ambiente Ltda
Site: propark.com.br
Address: Rua do Rosário, 492, Piracicaba (SP), CEP 13400-180, Brazil
Tel: +55 (19) 3434.5622
Email: propark@propark.com.br