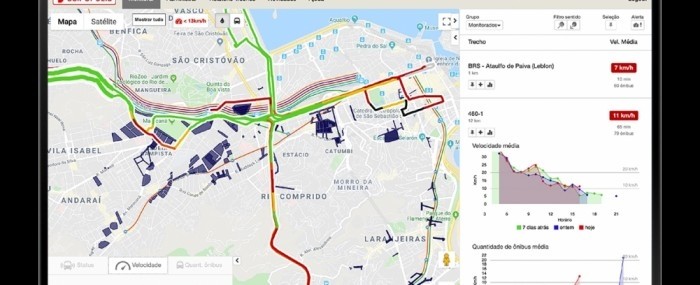 System developed by Brazilian startup with FAPESP's support is being used in Rio de Janeiro on a pilot scale to detect problems in the operation of bus lines during rainstorms (image: Scipopulis)
Software can minimize the impact of rainstorms on urban mass transit
11 de fevereiro de 2020
By Elton Alisson | FAPESP Innovative R&D – When Rio de Janeiro is hit by a heavy rainstorm, as has frequently occurred this summer, managers at the City Command Center (COR) pay special attention to a computer screen showing a real-time bus tracking system.
Developed by Scipopulis through projects funded by FAPESP's Innovative Research in Small Business Program (PIPE), the system is Painel de Ônibus (Bus Dashboard). It monitors the functioning of bus lines and detects operational problems in real time so that actions can be taken to minimize the impact on commuters.
A pilot version of the system was implemented in December in Rio de Janeiro. It will also be tested in Belo Horizonte – the state capital of Minas Gerais and home to Brazil's third-largest Metropolitan Area – which has been hit by severe flooding in this year's rainy season.
"The system is being used for the first time to monitor bus flows during a period of heavy rain, which causes serious disturbances to mass transit in our cities," Roberto Speicys Cardoso, Scipopulis co-founder and partner, told Innovative R&D.
The system used in Rio de Janeiro pinpoints locations where stormwater has backed up and flooded thoroughfares. It also tots up the bus routes including streets and roads blocked by stormwater flooding.
The city has a fleet of approximately 6,000 buses. The technicians responsible for its management use the system to predict the lines most affected and to make the requisite decisions with a shorter response time.
"In a heavy rainstorm, managers usually do not have this information at their fingertips to make decisions. With our dashboard and maps, managers can monitor the location and movement of each bus minute by minute, and identify blocked routes," Cardoso said.
Traffic congestion and accidents
A similar system without flooding detection functionality has been used by São Paulo City's Department of Mobility and Transit since 2016. São Paulo has one of the world's most complex mass transit networks, comprising over 1,300 bus lines and 15,000 buses.
The system shows the speed at which buses move in real time and correlates bus companies' GPS vehicle tracking data with traffic information and public transit network statistics.
"The system lets managers of São Paulo City's mass transit services predict traffic congestion hotspots and detect slower-than-expected speeds for the time of day as well as accidents and other occurrences that interfere with traffic," Cardoso said.
Continuous monitoring generates data for use by public administrators in comparative studies to help produce traffic management plans and predict the impact of bus lanes, for example.
"We have data on the average bus speed in São Paulo going back to 2015," Cardoso said. "These data can be used by managers to assess the efficiency of new bus lanes and formulate evidence-based decisions to maintain or change them."
A change of course
Scipopulis began as a smart city data analysis startup founded by Cardoso in partnership with computer scientist Julian Monteiro and urbanist Ivo Pons in 2014, after Cardoso completed his PhD in France, where he also began a project to monitor mass transit services in Paris.
The researchers were particularly struck by the June 2013 street protests in Brazil, which began as a reaction to fare hikes. They saw an opportunity to leverage advances in artificial intelligence to solve urban mobility problems.
"The demonstrations clearly showed that mass transit services in Brazil were unreliable, costly and unable to meet the needs of commuters," Cardoso recalled.
The startup's first project entailed the development of a smartphone app for bus users in São Paulo to receive real-time arrival information. It was an innovation but came to market at the same time as competing solutions that also mined the city government's database showing the location of all 15,000 buses minute by minute.
"We realized there was a great deal of competition in this market and concluded that we would need to attract a very large number of users, while also finding other revenue sources in order to be viable," Cardoso explained.
When the startup's founders participated in the PIPE High-Tech Entrepreneurship Training Program (PIPE Empreendedor), they decided that the technology they had developed could be used by urban transit network managers and proceeded to develop the Painel de Ônibus system for medium to large cities.
"These managers are often unable to clearly monitor where traffic bottlenecks or congestion points are located, and whether bus companies are complying with their contractual obligations," Cardoso said. "Our solution organizes, structures and analyzes the data collected by city governments to generate strategies that enhance the performance of the mass transit network."
Market expansion
In August 2019, Scipopulis was acquired by green4T, a provider of digital infrastructure solutions, for BRL 11.5 million.
The acquisition was green4T's first corporate venture capital initiative, which is a company that builds data and command and control centers for cities. "They install computational infrastructure but until the acquisition they lacked their own software to operate it," Cardoso said. "We had the wherewithal to complete their portfolio in terms of data and information. This combination gave us the opportunity to scale up our business model and develop new smart city solutions such as public security monitoring."
With the experience of receiving PIPE funding from FAPESP and the injection of venture capital, Cardoso believes both kinds of investments in tech startups are significant. Indeed, they are complementary. "PIPE does not play the same role as venture capital, and vice versa," he said.
In his view, PIPE funding is particularly important in a startup's early stages, when it is beginning to develop a product and lacks a clear valuation (a sales forecast and an estimate of how much potential investors would be willing to pay for its stock). Owing to this problem, he argues, his firm would not have been able to raise private equity investments amounting to BRL 1 million, the sum provided by PIPE.
"PIPE funds innovation. Its support enables entrepreneurs to establish a business and test ideas that, if a market exists, may result in the development of a new product," Cardoso said.
Venture capital enables startups that have reached a more mature stage to scale up production so they can enter new markets and find new applications. "It is hard to attract venture capital to create a new product from scratch. The product typically has to be ready to be scaled up. This is why PIPE is fundamental," Cardoso said.