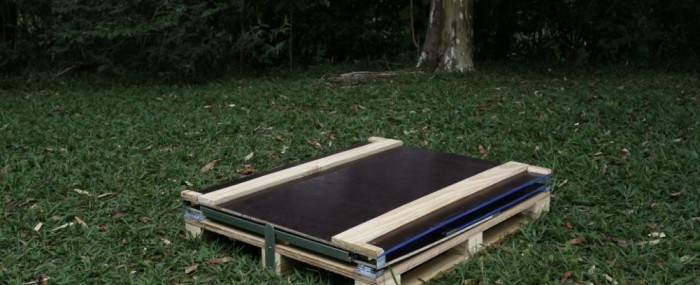 Firm has patented crate without nails or screws for Lego-like assembly (photo: Reciclapac)
Smart packaging cuts cost for manufacturers
31 de julho de 2018
By Claudia Izique | FAPESP Research for Innovation – The packaging used to handle input traffic in a production chain is typically not reusable. This practice affects costs because it generates a large amount of waste for disposal and conflicts with initiatives designed to foster sustainability. The resulting gap in production chain rationality is where the Brazilian startup Reciclapac has spotted a business opportunity.
The firm was founded in 2013 to offer manufacturers a packaging reuse solution. Incubated at the Center for Innovation, Entrepreneurship and Technology (CIETEC) located inside the University of São Paulo and supported by the FAPESP Innovative Research in Small Business Program (PIPE), Reciclapac tested the idea's technical feasibility and developed a methodology for the large-scale reuse of wood and cardboard packaging.
"We tested the concept at MWM, a manufacturer of diesel engines," says Rogério Machado, CEO of Reciclapac. "It imported inputs from European suppliers, discarded the packaging, used new packaging to ship product to the distribution center in Jundiaí [a city in São Paulo State], again discarded the packaging, and purchased new packaging for shipments to customers."
The packaging reuse proposal implemented in PIPE Stage 2 entailed careful opening of received packaging – "uncrating with a power screwdriver instead of a crowbar" – and engaging the workers involved in a change from the recycling flow to a plan to reuse wooden crates. "We've patented a crate with no nails or screws for assembly, like Lego pieces," Machado explains. "One year after implementing this creative use technique, known as upcycling, MWM had saved 1 million Brazilian reals and reduced waste by 70%."
Returnable packaging
In addition to potentially reusable packaging, the flow of products among hundreds of suppliers and automotive manufactures also involves returnable packaging. "Packaging is a costly and hence valuable item," Machado notes. One large auto maker with hundreds of suppliers, for example, needs to manage thousands of crates in two-way traffic. "The risk of misplacement and production downtime is significant."
Reciclapac also spotted a business opportunity here. This insight occurred during a PIPE High-Tech Entrepreneurial Training Course offered by FAPESP to align innovation R&D projects with market needs and increase their chances of success. "We conducted about a hundred interviews and discovered that the management of returnable logistical packaging was the main headache experienced by firms in the automotive industry," Machado recalls.
In 2015, Reciclapac responded to a call for innovation proposals issued by SENAI, the National Industrial Training Service, by submitting a project to develop a returnable packaging management system. "We researched emerging technologies in pursuit of opportunities to develop smart packaging," Machado says. "Reciclapac's solution uses an electronic device that communicates via a system developed by us, involving networks and the Internet of Things (IoT)."
The first concept test was performed at General Motors do Brasil (GM). The platform created by Reciclapac locates product and packaging flows and collects real-time data on the movements of supplier shipments and assembly plant logistics.
"In sum, the packaging communicates with the manufacturer," Machado says.
Concept tests have also been conducted by the automaker Nissan and the agricultural and construction equipment manufacturer Case New Holland (CNH), as well as the flat glass producer Cebrace, a joint venture between Saint-Gobain (France) and NSG/Pilkington (Japan). "Cebrace, for example, ships sheet glass on racks to more than 500 customers. With Reciclapac's system, it's possible to see and track the location of each rack," he explains.
Smart packaging
In March 2018, Reciclapac had another PIPE Stage 2 project approved, this time for the development of smart packaging. "Our goal is to use industry 4.0 concepts to have racks communicate with all nodes of the production chain and provide a real-time view of product and packaging locations and flows, " Machado says. The project is scheduled for completion in early 2020. "The focus was on logistics in our initial PIPE projects. Now it's on manufacturing – packaging talking to robots."
The firm has expanded since its foundation five years ago. "We've doubled the workforce from four to eight." This year, it started to generate revenue. "Sales amounted to 20,000 BRL in 2017. In the first-half of 2018 they reached 500,000 BRL. If all goes well, they'll surpass 1 million in the year," Machado says.
At this stage of growth, the main challenge is scaling up. "We have orders to connect 20,000 racks pronto, and we need to manage cash flow in order to buy electronic devices," Machado says. Bringing in an investor is not the solution at this time, in his view. "It's complicated to calculate the value of a firm with unconsolidated revenue. First and foremost, we have to focus on sales."
Company: Reciclapac
Site: reciclapac.com/home-en
Address: Av. Prof. Lineu Prestes, 2242, Cidade Universitária, São Paulo (SP), Brazil
Contact: +55 11 99981-0614 / contato@reciclapac.com