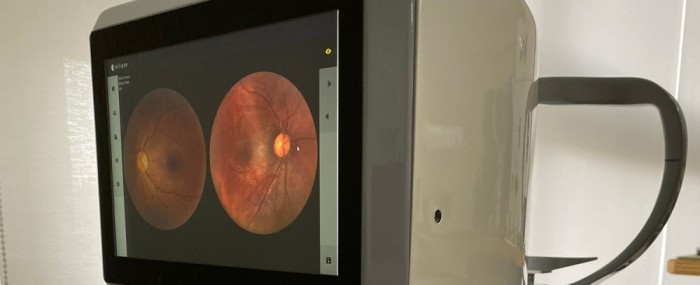 With joint support from FAPESP and the government innovation agency, researchers at Eyetec have drastically reduced the number of components needed to make the device (photo: Eyetec)
Retinal imaging device developed in Brazil could cost only a fifth as much as conventional models
22 de fevereiro de 2022
By Fábio De Castro | FAPESP Innovative R&D – Retinal imaging by fundus camera is the main method eye doctors use to examine the back of the eye to diagnose and prevent disease, but the equipment required is expensive, limiting availability of the exam in clinics.
To facilitate access to the exam, Eyetec, a company based in São Carlos, São Paulo state (Brazil) has developed a retinal imaging device with innovative architecture that could eventually sell for a fifth of the price of the models currently available in the marketplace.
To design the non-mydriatic fundus camera, the entrepreneurs at Eyetec had to deploy new technologies and considerable knowledge of applied physics. In developing this innovative product and bringing it to market, they were supported by the PIPE/PAPPE Grant Program, funded by FAPESP via its Innovative Research in Small Business Program (PIPE), and the Business Research Support Program (PAPPE) run by the Brazilian Innovation Agency (FINEP), an arm of the Ministry of Science, Technology and Innovation (MCTI).
An innovative lighting system drastically reduced the number of components in the device and hence significantly lowered its cost. "These devices are usually very expensive and only available in the consulting rooms of retina specialists. A more affordable fundus camera could enable most eye doctors to make an early diagnosis and only refer patients to a retina specialist if necessary," project leader André Orlandi de Oliveira told Innovative R&D.
Innovative architecture
According to Oliveira, the camera's key feature is the simplicity of the production process compared with those of traditional retinal imaging devices. "They have a great many components, all of which must be painstakingly aligned, so that production costs are high. We set out to reduce the number of components without loss of quality, thereby cutting the cost of production," he said, adding that the design of these devices has remained the same since 1969.
The technology used to eliminate reflections from the cornea and the surfaces of the optical components is one reason for their high cost. "Several components have to be mounted outside the optical axis of the image for this technology to work," he explained. "My plan to simplify the device entailed designing a totally coaxial system, with all optical components assembled along a single axis."
For example, a ring of surface-mounted light-emitting diodes (LEDs) placed between the objective lens and the imaging system illuminates the eye. "We were able to do this thanks to the technological advances enabling the production of small enough LEDs to form a well-defined ring," he said.
Substitution of the ring of LEDs for the usual complex lighting array ensures that reflections of the cornea do not obstruct viewing of the retina and enables the entire system to be aligned coaxially. "To suppress reflections in the lens, we developed an intermediate system that selects precisely the regions of the ring of LEDs that illuminate the lens and the eye. If we know where a reflection will be generated, we can eliminate it before it reaches the lens," Oliveira said.
This architectural simplification facilitated design of the production process. "It's what enabled us to achieve such a significant reduction in production cost," he said, estimating that the camera will sell for about 80% less than the imported models currently used in Brazil, which cost in the range of USD50,000.
Use of a fundus camera is required to diagnose disorders such as retinal detachment, macular degeneration and glaucoma. Retinal exams can also detect problems relating to circulation and the brain, for example.
"According to the World Health Organization [WHO], 80% of the estimated 900 million cases of vision loss worldwide could be prevented or cured by means of simple eye exams of this kind," Oliveira said.
Combined competencies
Oliveira developed the concept of the fundus camera in a Phase 2 PIPE project that was part of his PhD research in applied physics, completed at the University of São Paulo's São Carlos Institute of Physics (IFSC-USP) in 2017.
He produced a prototype and set off in search of a company with the know-how to make it into a commercial product. He already knew the founders of Eyetec, which has marketed a range of ophthalmological products since it was set up at IFSC-USP in 1992, and he joined the firm in 2018.
"It's very costly to establish a business from scratch, and certification of equipment for medical use is time-consuming and complex. I knew Eyetec needed to launch a new product, and we decided to work together," Oliveira recalled.
In a Phase 3 PIPE project, Eyetec designed the product and developed its optomechanical parts, electronics and software, including a user-friendly interface, to ensure the device was robust and capable of high-quality retinal imaging.
According to Silvio Antonio Tonissi Junior, co-founder and director of Eyetec, unlike most of the devices the firm had designed and produced previously, the new fundus camera has a built-in display and on-board management software, so that a separate computer is not required to operate it.
"PIPE was most important to us," he said. "Besides funding for the project itself, which was fundamental, its support enabled us to develop solutions – hardware, software, routines – that we can now use in other products we offer. Before this, moreover, we didn't have products with on-board computational resources, and we're now applying this philosophy to new products and to updates for existing models."
In the 30 years of its existence, the firm has developed and marketed ophthalmoscopes, computer-assisted corneal mappers, visual field measuring devices, a specular microscope (used to analyze the corneal endothelium), and an ultraviolet corneal cross-linking therapy system (to strengthen the cornea). For Tonissi, this cumulative experience will be of great help in winning regulatory approval for the new low-cost fundus camera.
"In launching many products down the years, we've acquired a great deal of experience with regard to the process of winning approval for health-related equipment, which is tortuous and complicated in Brazil and involves a huge number of rules and regulations," he said.
The immediate goal is certification of the new fundus camera by ANVISA, the national health surveillance authority, expected to take at least a year. According to Tonissi, who earned a first degree in electrical engineering and a master's in applied physics from IFSC-USP, the process has many stages and changes may have to be made even when all requirements are strictly complied with.
"Everything will be analyzed, from radiated and conducted electromagnetic emission and electrostatic discharge susceptibility to software validation, risk management and environmental responsibility. After all that, an audit will be conducted to make sure best practices are being followed," he said.