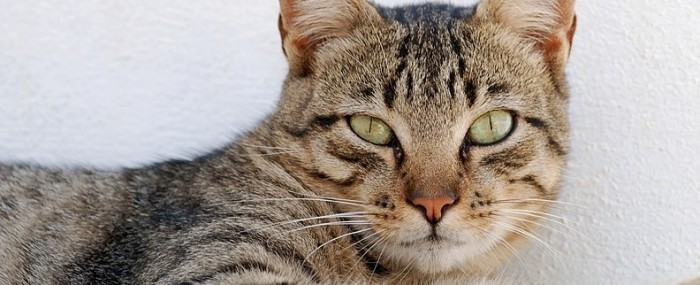 Test developed by startup BiDiagnostics with FAPESP's support promises faster and more accurate diagnosis of deep mycosis that causes sores and potentially fatal organ damage in domestic cats (photo: Wikimedia Commons).
Rapid test detects emerging disease transmitted by cats to humans
14 de dezembro de 2021
By Fábio de Castro | FAPESP Innovative R&D – Cases of sporotrichosis, a fungal infection that mainly affects the skin and is frequently found in cats, have multiplied in recent years. The disease is caused by Sporothrix spp. It is a deep mycosis that produces skin lesions but can spread to bones, muscles, joints, and even the lungs. It is often transmitted to humans by a bite or scratch from an infected cat.
To facilitate detection, BioInsumos e Diagnósticos (BiDiagnostics), a startup based in São Paulo, Brazil, has developed a rapid test to diagnose the disease in cats, with funding from FAPESP's Innovative Research in Small Business Program (PIPE).
The test identifies feline sporotrichosis transmitted by S. brasiliensis, the fungus that causes the most prevalent and virulent form of the disease, considered a hyperendemic zoonosis in South America by the Pan American Health Organization (PAHO). The firm had previously developed a test to detect the disease in humans, also with support from PIPE-FAPESP.
With a minimally invasive method, the test guarantees a faster and more accurate diagnosis of sporotrichosis, and can be used directly in veterinary consulting rooms for triage, accelerating treatment and improving the chances of a cure. The disease can cause potentially fatal lesions in cats.
According to Maria Griselda Perona, a geneticist who heads the research and development (R&D) department at BiDiagnostics, until now there were no tools for vets to diagnose feline sporotrichosis directly. "Our first project focused on developing a laboratory test for humans, and the second on a rapid test for cats. The main difference is the antigen that gives specificity for detection of S. brasiliensis, the main pathogenic species," Perona said. "We now aim to convert the tests for humans and animals into products that will be the first of their kind on the Brazilian market."
In the first project funded by PIPE-FAPESP, she added, the firm obtained proof of concept for the ELISA-type test applied to humans and developed an adaptation of the test for cats. The second project funded by PIPE-FAPESP was completed at the end of November and revalidated the serological test for cats, transposing it into a pilot point of care (PoC) rapid test for animals.
"The PoC concept is a global trend. Our test enables vets to diagnose the disease in 15 minutes for screening of cats with suspected sporotrichosis in their own consulting rooms. This cuts costs, simplifies logistics, and permits early diagnosis and treatment," Perona said.
Mycological culture is the method used currently to test animals with suspected sporotrichosis, she explained. The vet collects a swab and sends it to be cultured in a laboratory, which identifies the fungus. There are many false negatives, as the fungus may not be common in the region chosen for the collection.
"Our serological test isn't a substitute but a complement for existing diagnostic tools. It will enable vets to diagnose the disease with a higher level of certainty," Perona said.
"In our view, the tests we've developed for humans and animals are two sides of the same coin. We decided it would be more productive to work on both simultaneously. Our focus is now on taking the technology to a new level in both tests."
The next steps will include a feasibility assessment, adaptations for industrial production, registration with regulatory bodies, and meeting other requirements to take both tests to the production line. Although their markets are different, the two tests have a common basis and use highly similar active principles.
The ELISA test for humans developed in the first project is not yet on the market but has been so successful that it is offered by the firm in partnership with Hospital das Clínicas, the hospital complex run by the University of São Paulo's Medical School (FM-USP) in the state capital.
Immunochromatography
According to Perona, the researchers began with the idea of developing a test for cats but identified a practical problem in 2019 when they took part in the 12th PIPE High Tech Entrepreneurial Training Program offered by FAPESP and interviewed 105 potential users of the technology (more at: https://pesquisaparainovacao.fapesp.br/1227).
"The vets we spoke to foresaw difficulty with taking blood samples from cats because they would be stressed by the handling required in the consulting room. For the serological test, about 1 milliliter of serum must be extracted from the animal's blood. That's a small amount, but it presented us with a big practical problem," she said.
The researchers surmounted the problem in the second project by creating a rapid test that provides a qualitative result with a single drop of blood, showing whether the animal is or is not infected. "To detect the antigens we use lateral flow immunochromatography, a separation technique. As in pregnancy tests, the device contains a special membrane comprising a paper strip. With a drop of blood, it's possible to detect the antibody resulting from the presence of the fungus S. brasiliensis," she explained.
Differential diagnosis is extremely important in the case of feline sporotrichosis. The symptoms can easily be mistaken for injuries resulting from fighting or ill-treatment. "Animals are often treated topically because of this kind of mistake and don't improve. The disease may eventually be diagnosed, but by then it's harder to treat and the animal is likely to have contaminated other cats and even people," she said.
In 2019, she added, PAHO issued an alert about cases of sporotrichosis caused by S. brasiliensis in Argentina, Paraguay, Bolivia, and Colombia. Notification is not compulsory everywhere, so the official numbers are probably underestimated. "The pathogen has adapted to local conditions via natural selection as a result of several characteristics, and the disease has now spread to the extent of becoming hyperendemic," she said.
Severe cases rare in humans
The first case of feline sporotrichosis in Brazil was described in the 1950s, Perona noted, but until 2015 it was mistakenly thought to be caused by S. schenckii. "S. brasiliensis was described in 2007. Scientists confirmed its role in transmitting the disease only in 2015," she said.
Recent epidemiological bulletins have reported thousands of cases in humans, and the number of patients is growing exponentially year by year. In cats, the disease is spreading throughout Brazil with no prospect of control, according to Perona. The number of cases notified in Rio de Janeiro in 2019, for example, corresponded to 10% of the city's cat population. Brazil is estimated to have close to 24 million domestic cats.
The feline disease is treatable and can be cured in most cases, but treatment with antifungals can last a long time. "It takes at least three to four months, and may last a year. It's not easy to give cats medicine, but they can be cured. The earlier the treatment starts, the better the prognosis. That's why it's so important to have a means of diagnosing the disease accurately and at an early stage," Perona said.
The disease is not usually severe in humans, although it can produce sores in a single part of the body or in several parts associated with the lymphatic system. "According to reports in the literature, humans can't transmit the disease, but cats can pass it on to animals and people," she said.