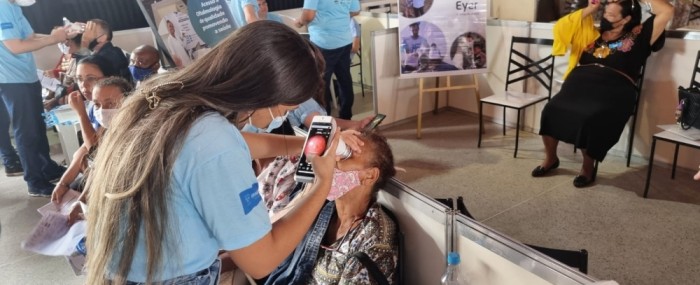 The technology was developed by a startup with FAPESP's support and used in a project conducted in rural communities in the Northeast of Brazil. The World Health Organization included the project in a mapping exercise on developing-country primary healthcare initiatives that use AI and telemedicine (photo: João Augusto Stuchi)
Portable device with artificial intelligence diagnoses eye disease in real time
31 de janeiro de 2023
By Elton Alisson | FAPESP Innovative R&D – In late 2021 and early 2022, more than 1,000 low-income inhabitants of the semi-arid interior of Sergipe, a state in Northeast Brazil, had their retinas examined for the first time without having to leave their rural communities, as part of a diabetic retinopathy screening program.
Local health workers were trained to use a portable retinal camera coupled to a smartphone. The device was developed by Phelcom Technologies, a startup based in São Carlos, São Paulo state, with funding from FAPESP's Innovative Research in Small Business Program (PIPE). The retinal imaging data was collected in four communities as part of a campaign to detect back-of-the-eye (fundus) diseases. Diabetic retinopathy is one of the leading causes of preventable blindness in the adult population.
The images were automatically analyzed by an artificial intelligence (AI) system running in the portable device and not connected to the internet. The offline system instantly alerted the health workers if it detected any retinal lesions.
Images that were hard for the local health workers to interpret were sent to the cloud and analyzed remotely by ophthalmologists. People with automatically detected evidence of serious eye disease were referred to consultant physicians for diagnosis and treatment.
A pilot project conducted to trial the technology is reported in an article in Bulletin of the World Health Organization. The WHO included the project in a mapping exercise on primary healthcare initiatives in developing countries that use AI and telemedicine.
"This low-cost technology can help democratize screening campaigns of this kind and also enhance their efficiency by removing patients from the queue if they don't have significant retinal alterations relating to diabetes while referring only the most severe cases to specialists," said Fernando Korn Malerbi, a co-author of the article and a professor at the Federal University of São Paulo's Medical School (EPM-UNIFESP).
"The device can be used by trained operators to screen for diabetic retinopathy in areas without specialists, and with ophthalmologists providing remote support. The process is faster and costs a lot less than the conventional approach."
Upgrading the technology
Development of the technology, which is called Eyer, began in 2014 when the firm's co-owners – computer engineer José Augusto Stuchi, physicist Diego Lencione and electronic engineer Flávio Pascoal Vieira – met and became close collaborators while studying for a degree at the University of São Paulo (USP) in São Carlos. They founded Phelcom (a portmanteau of PHysics, ELectronics and COMputing) to help Lencione's brother, who has a congenital retinal problem.
"Our original idea was to develop a portable retinal camera for use in performing mobile examinations in underserved areas with poor populations and connect it to a telemedicine system for remote access to the images," Stuchi said.
The Eyer Cloud platform for remote diagnosis via telemedicine was launched in 2019 (read more at: pesquisaparainovacao.fapesp.br/1074). The technology was validated in a pilot project in the Xavante community living on Indigenous reservations in Mato Grosso, a state in Brazil's Center-West region (read more at: agencia.fapesp.br/34559).
During the COVID-19 pandemic, the researchers had the idea of upgrading the technology by building in AI to detect retinal alterations. They used deep learning models to train the system on large retinal imaging databases so that it can screen for diabetic retinopathy and other ocular fundus diseases.
"The main advantage of our technology over other AI-based retinal screening solutions is the ability to detect alterations in real time, even when an internet connection is unavailable. All the processing is done on the device. That's particularly important in large areas of Brazil where the signal is poor or intermittent," Stuchi said.
The AI system detects retinal alterations by analyzing image attention maps in the target region. "If the patient presents with significant optic nerve excavation, which can be a sign of glaucoma, for example, the system highlights the region in red and the ophthalmologist receives an alert," Stuchi explained, adding that the system can help identify more than 50 ocular diseases. In the case of diabetic retinopathy, its diagnostic sensitivity is more than 95%.
Phelcom has an office in Boston, Massachusetts, and has sold more than 2,000 units of the device, which is certified in Colombia, Chile, the United States and Japan, and is currently being validated in Mexico.
The article "Feasibility of screening for diabetic retinopathy using artificial intelligence, Brazil" (doi: 10.2471/BLT.22.288580) by Fernando Korn Malerbi and Gustavo Barreto Melo is at: www.ncbi.nlm.nih.gov/pmc/articles/PMC9511671/#.