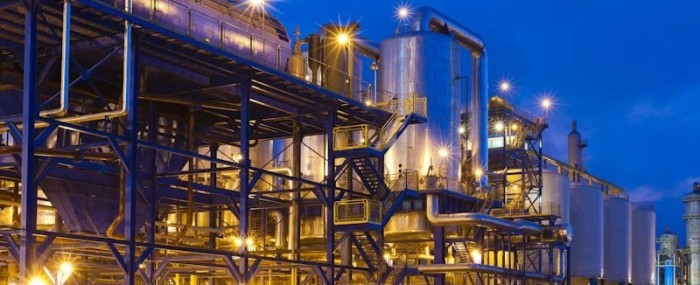 A software tool developed by a company supported by FAPESP raises productivity and lowers operating costs in the bioenergy sector (image: Atvos)
iSystems implements AI-based solution for biofuel production
29 de agosto de 2023
FAPESP Innovative R&D – iSystems has implemented Leaf, a software tool based on artificial intelligence (AI), for Atvos, one of Brazil's leading producers of biofuels. The solution, which the firm developed and patented, focuses on control and optimization of industrial processes to raise productivity, save resources and reduce their environmental impact.
Developed with support from FAPESP's Innovative Research in Small Business Program (PIPE), Leaf deploys AI to identify trends and patterns as a decision-making aid, and to minimize failures and maximize efficiency in manufacturing (read more at: agencia.fapesp.br/17230).
Through integration with Atvos's automation system, Leaf assures sophisticated real-time process control at Unidade Conquista do Pontal (UCP), the company's sugar and ethanol plant in Mirante do Paranapanema, São Paulo state, enhancing cost-effectiveness, reducing waste and raising productivity.
Benefits have been detected in co-generation, sugarcane crushing and distillation, yielding significant results for the plant. Optimization of co-generation raised the efficiency of electricity production from biomass. In crushing, automation and enhanced control led to higher levels of sugar extraction and a reduction in raw water consumption.
Advanced automation also raised distillation efficiency and quality, while integration with Leaf in processes had a positive impact on the plant's overall productivity, as evidenced by the rise in corrected sugar yield (CSY).
"The partnership between Atvos and iSystems has contributed to an increase in industrial efficiency, thanks to the implementation of innovative technology. It also reinforces our joint commitment to sustainability, drives transformation of the bioenergy market and promotes the adoption of more sustainable practices throughout the sugar and ethanol industry," said Danilo Halla, co-CEO of iSystems.
Besides the operational benefits, implementation of the solution developed by iSystems has improved security by detecting anomalies at an early stage and constantly monitoring security parameters. The company's experience in the sugar and ethanol industry, combined with the enhancements provided by this advanced technology, has also resulted in a substantial reduction in greenhouse gas emissions.
Background
iSystems was founded in 2007 to develop AI-based industrial automation solutions by four graduates of the State University of Campinas (UNICAMP) with degrees in computer engineering and mathematics. In 2013, it was chosen to receive a capital injection from Pitanga, a venture capital fund created by the founders of Natura and Itaú Unibanco, and managed by biologist Fernando Reinach, a former director of Votorantim Novos Negócios (read more at: pesquisaparainovacao.fapesp.br/2714). Pitanga later sold its stake in the firm to Ambev.
As well as Pitanga, iSystems has received capital injections from Endeavor Investments and industry giants, and is now at the scale-up stage. It recently launched Calix, an AI-based demand forecasting solution that contributes to more accurate and shorter planning cycles through gains in efficiency and agile machine learning.