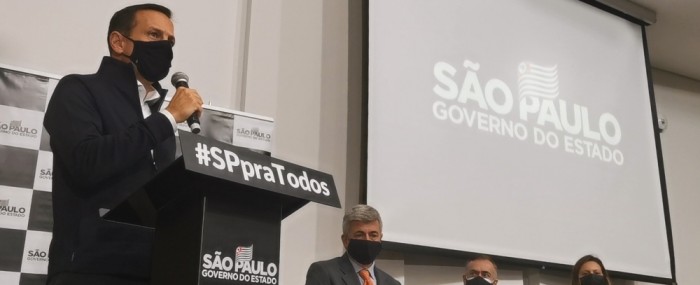 The announcement ceremony was attended by São Paulo State Governor João Doria, Economic Development Secretary Patrícia Ellen, FAPESP Vice President Ronaldo Aloise Pilli, representing President Marco Antonio Zago, Shell Brazil CEO André Lopes de Araújo, USP Rector Vahan Agopyan, and RCGI Scientific Director Julio Meneghini (photo: Daniel Oliveira/Agência FAPESP)
FAPESP and Shell will invest BRL 63 million in research on greenhouse gas emission mitigation
19 de outubro de 2021
Agência FAPESP – On October 8, 2021, FAPESP and Shell announced a plan to invest BRL 63 million in the Research Center for Gas Innovation (RCGI), an Engineering Research Center (ERC) hosted by the University of São Paulo's Engineering School (POLI-USP). Shell will invest BRL 51 million, and FAPESP BRL 12 million. The funding will enable RCGI to expand the scope of its activities to include research into greenhouse gas emission mitigation strategies.
The announcement was made at a ceremony held at the University of São Paulo (USP) and attended by São Paulo State Governor João Doria and Economic Development Secretary Patrícia Ellen. FAPESP's Vice President, Ronaldo Aloise Pilli, represented its President, Marco Antonio Zago. André Lopes de Araújo, CEO of Shell Brazil, also attended, as did Vahan Agopyan, Rector of USP, and Julio Meneghini, Scientific Director of RCGI.
"This is the right role for the public sector: working with the private sector and academia to establish targets and principles for the execution of tasks. The continuity of this partnership is a sure sign we're on the right track," Doria said.
"The collaboration among Shell, FAPESP and USP is highly symbolic. We're going well beyond greenhouse gas emission mitigation and innovation in sustainable uses of natural gas to develop applications of biogas and hydrogen, and even farther to enhance carbon capture and storage technologies," Ellen said.
Set up by FAPESP and Shell in 2015, RCGI has some 400 researchers working on 46 projects that involve advanced studies of the sustainable use of natural gas, biogas, hydrogen, and CO2 management, transportation, storage, and use. For Zago, expanding its scope will enable it to address not just the sustainable use of energy but also climate change. "Combating the causes of global climate change is an important challenge for humanity," he said. "It will become the main goal for all countries as the threat of the COVID-19 pandemic wanes."
With the change of focus, the name has also changed. RCGI now stands for Research Center for Greenhouse Gas Innovation, and it has five new programs: Nature-Based Solutions (NBS); Carbon Capture and Utilization (CCU); Bioenergy with Carbon Capture and Storage (BECCS); Greenhouse Gases (GHG); and Advocacy. Nineteen research projects are subordinated to these programs, some of them considered potentially disruptive.
"The focus on climate change mitigation is aligned with Shell decarbonization strategy," said CEO Araújo. RCGI was the first ERC established by Shell in partnership with FAPESP, the second being the Center for Innovation in New Energies (CINE), with units at the University of Campinas (UNICAMP), USP, and the Nuclear and Energy Research Institute (IPEN). A new ERC to be called Offshore Innovation Science is in the works, he said, adding that "science and technology are fundamental to change society".
Pilli emphasized that FAPESP's new investment in RCGI will take the total allocated to the 22 ERCs established in partnership with companies and universities to BRL 1 billion. "This is investment for the long haul and aims at problem-solving. Mission-oriented research has been key for FAPESP in recent years," he said.
RCGI's new aims were presented by Meneghini. "We know it's not enough to develop solutions that reduce greenhouse gas emissions. We must go further by capturing and storing carbon, converting CO2 into feedstocks for the chemical industry, and eliminating market bottlenecks, regulatory obstacles and problems of public perception. This is RCGI's overall vision," he said.
The Nature-Based Solutions program, for example, will seek solutions that promote carbon sequestration in vegetation and soil via reforestation with native species, restoration of degraded pasture, and crop-livestock-forest integration systems. It will also support ecosystem services, provide public policy inputs, and contribute to social wellbeing.
Developing novel chemical, biological and electrochemical routes, and using CO2 as a raw material for the chemical industry, will be among the aims of the Carbon Capture and Utilization program. The Bioenergy with Carbon Capture and Storage program will help give the bioenergy production chain a negative footprint, making Brazil a world leader in the segment.
The Greenhouse Gas program will aim to make Brazil's greenhouse gas inventory more reliable and to develop new technologies to reduce these emissions. "It makes no sense for us to have economically viable zero-carbon products and processes if we don't have carbon credits to commercialize them," Meneghini said. "In addition, we must assess the feasibility of each project in economic, legal and social terms in order to develop strategies and present projects persuasively to stakeholders: that's the point of the Advocacy program."
Alexandre Breda, an executive at Shell and Deputy Director of RCGI, also underscored the alignment of the new challenges with the company's global strategy of becoming carbon-neutral by 2050. "With its excellent team of 400 researchers, RCGI is now sufficiently mature and well-organized to tackle complex challenges," he said.