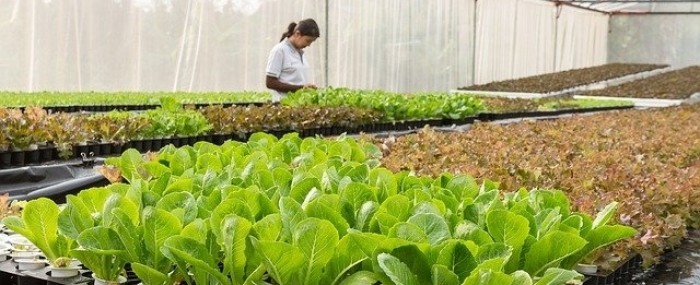 The new Engineering Research Center will be led by scientists affiliated with the University of Campinas's Interdisciplinary Center for Energy Planning, in partnership with colleagues at universities and research institutions in the state of São Paulo, Brazil (photo: Braskem)
FAPESP and Braskem create center for research on use of plastics in agriculture
08 de fevereiro de 2022
By Elton Alisson | FAPESP Innovative R&D – FAPESP and Braskem, one of the largest producers of thermoplastic resins in the Americas, have selected a project for the creation of a research center in plasticulture, a term that refers to the use of plastics in agriculture. Examples include plastic shade nets, anti-insect screens, greenhouses, and soil cover film, among others.
The project will be conducted by researchers affiliated with the Interdisciplinary Center for Energy Planning at the University of Campinas (NIPE-UNICAMP), in partnership with several other universities and research institutions located in the state of São Paulo (Brazil).
The new center will be part of the Program of Engineering Research Centers (ERCs), which promotes synergies between private enterprise and academia to produce and disseminate world-class research with significant economic and social impacts via innovation.
"The use of increasingly scarce resources such as water, fertilizer and fertile soil can be boosted by solutions based on plasticulture. The mission of the new ERC will be to expand complex learning processes in pursuit of sustainable routes to contemporary plasticulture and practical solutions in this area," said Luiz Eugênio Mello, FAPESP's Scientific Director.
Food security will be a key aim of the new ERC. "One of the goals of the research that will be conducted here will be optimization of inputs and natural resources for food production, such as water. It will also study ways of reducing agriculture's environmental impact and raising yields in order to meet demand from consumers," Telma Teixeira Franco, principal investigator for the center, told Innovative R&D. Franco is a professor in the School of Chemical Engineering at UNICAMP and a member of the NIPE research term.
The new center will focus on strategic segments of Brazilian agriculture such as aquaculture and silviculture, as well as major crops such as sugarcane, soybeans, corn, citrus, bananas, coffee, greenhouse horticulture, and organics.
Research will be conducted in close collaboration with agricultural producers and associations. "We've completed an initial survey of the key issues faced by farmers. We plan to keep our eyes and ears open all the time in order to know what they need and keep working on the development of solutions," Franco said.
Three cross-cutting themes will inform the research: the circular economy and reverse logistics; technical, economic and impact assessments; and disruptive change in plasticulture.
Projects will involve researchers at UNICAMP, the University of São Paulo (USP), São Paulo State University (UNESP), the Federal University of São Carlos (UFSCar), the Agronomy Institute (IAC), the Fisheries Institute (IP), the Forestry Institute (IF), the Citrus Center (CCSM), the Nuclear Energy Research Institute (IPEN), the Holambra Agribusiness School (FAAGROH), Eldorado Institute, the National Industrial Training Service (SENAI), and the Cunha Technology and Training Center (EACEA).
Examples of studies
The research conducted by the new center will be designed to meet producers' needs and help them choose between or combine traditional, frontier and disruptive technologies with the aim of creating a sustainable plasticulture market in Brazil.
Studies will aim to adapt solutions in polyethylene, polypropylene and PVC for use in crop covering, protected seedling preparation, storage of seeds in plastic silos, and packaging to protect food products during transportation to cities.
"Many solutions that have been developed for other sectors, such as construction, can be adapted for use in fish and crustacean tanks, for example. We plan to conduct many field experiments for the purpose of adapting existing materials to different crops and agricultural activities," Franco said.
Another research line will be development of new materials for storage and transportation of soybeans and other grain crops. Soybeans are Brazil's main agricultural export, and are stored and shipped in bulk, using containers. Large amounts of soybeans are lost in the process. The researchers plan to develop a solution to this problem involving a silo bag with special properties for soybean storage.
"Silo bags aren't used much right now to store and ship soybeans because of problems such as moisture retention. One of our aims is to develop a more suitable silo bag for soybeans," Franco said.