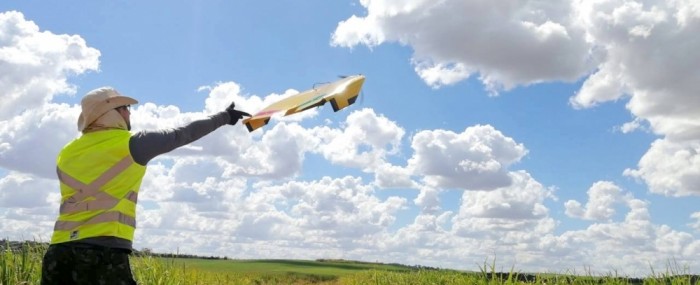 One of the aims of the investment is to accelerate the growth of the market for midsize to large autonomous drones (image: XMobots)
Embraer announces investment in drone maker supported by FAPESP
27 de setembro de 2022
FAPESP Innovative R&D – Embraer has announced the signature of an investment agreement to acquire a minority share in XMobots, a company based in São Carlos, São Paulo state (Brazil), and considered Latin America's largest drone maker. The deal will be executed via an investment fund solely held by Embraer, with the option to acquire a larger equity stake in future. Closing depends on compliance with certain conditions and the usual approvals for this kind of transaction.
According to a press release issued by Embraer, the aim is to accelerate the growth of the market for midsize and large autonomous drones, jointly explore new market niches, and expand the collaboration network in search of new technologies that have synergies with Embraer's technological development, business units, and innovation initiatives, as well as Embraer-X.
"Our investment strategy and venture capital operations place a strong emphasis on innovation and partnerships, which are key drivers of our growth plan for the coming years," said Daniel Moczydlower, Embraer's head of innovation and President and CEO of Embraer-X. "Initiatives like this are fundamental to leverage ecosystems, apply knowledge and recognize entrepreneurs who create business ventures with exponential growth potential and high added value for society."
Supported by FAPESP via its Innovative Research in Small Business Program (PIPE), XMobots was born with the mission of developing the market for mobile robots and has helped make drones a day-to-day reality for precision agriculture and geotechnology in Brazil and Latin America.
Present on the market since 2007, XMobots is ranked fourteenth among makers of civilian drones by market research and analytics company Drone Industry Insights. It specializes in developing and making high-performance vertical takeoff and landing (VTOL) drones and related technologies such as multispectral sensors, gyrostabilized optronic sensors, artificial intelligence-based data analysis software and a drone service provision platform, among others.
With around 200 employees, including more than 60 R&D engineers, the firm has a solid track record in the marketing of drones and services to clients in agriculture, geotechnology, defense and security. It also develops new projects for the logistics and urban mobility sectors. It operates throughout Brazil and in other Latin American countries, as well as in Africa (more at: pesquisaparainovacao.fapesp.br/2464).
"The deal will lead to innovations in drone service platforms, hybrid drive and power systems, artificial intelligence for image analysis, and above all aeronautical certifications," said Giovani Amianti, founder and CEO of XMobots. "This investment enables us to work together on the development of technologies that will strengthen the capabilities of autonomous aerial robots and accelerate the production of solutions for the geotechnology, agriculture, environmental, inspection, defense, law enforcement, logistics and urban mobility markets, which are points of convergence between XMobots and Embraer."
Once the transaction has been completed, the companies plan to negotiate memorandums of understanding related to collaboration in the civilian, defense and security markets.
Engineering Research Center
In May 2022, FAPESP and Embraer established an Engineering Research Center for the Aerial Mobility of the Future (ERC-AMF).
The two partners will invest BRL 48 million over a five-year period. ERC-AMF will be hosted by the Institute of Aeronautical Technology (ITA) in São José dos Campos, São Paulo state. Projects will be conducted by researchers at ITA and Embraer in partnership with colleagues at the State University of Campinas's School of Electrical and Computer Engineering (FEEC-UNICAMP) and the University of São Paulo's São Carlos School of Engineering (EESC-USP).
One of the ERC's aims will be to research innovative solutions with the potential to increase the competitiveness of the Brazilian aerospace industry in the medium to long term, in areas such as reduction of emissions, autonomous systems and advanced manufacturing and design.
In reduction of emissions, for example, projects will be conducted by more than 100 researchers on machine control for electrical propulsion and aeropropulsive integration for electric aircraft (more at: pesquisaparainovacao.fapesp.br/2274).