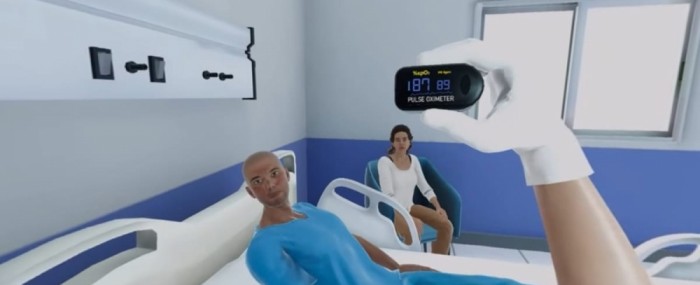 The platform was developed by a startup supported by FAPESP. It uses an adult learning methodology that leverages motivational techniques and customization (image: Xeduca)
Customizable corporate training system uses technology, immersion and interactivity
17 de outubro de 2023
By Roseli Andrion | FAPESP Innovative R&D – A mass corporate training system that can be customized for individual users and is simple and agile has been developed by Xeduca, a startup in São Paulo City, Brazil. The platform uses techniques typical of andragogy (adult education, as opposed to pedagogy, or child education), such as virtual reality, active methodologies and adaptive learning.
The system, which was developed with support from FAPESP's Innovative Research in Small Business Program (PIPE), is based on custom learning paths designed to produce improvements in a range of operational areas, such as standardization of procedures, in accordance with each individual trainee's abilities.
The project began in 2013 during research on teaching methods and educational technology conducted by Antonio Valerio Netto, principal investigator for the project and a professor at the Federal University of São Paulo (UNIFESP).
Market research showed that organizations find it hard to align the skills and attitudes of their employees with the corporate mission and other requirements. Training is often too theoretical to venture into operational practice and does not engage trainees, most of whom are unmotivated by traditional educational methods. Inspired by these findings, Xeduca created a practice-focused methodology based on knowledge, skills and attitudes (KSA). "The model encompasses theoretical knowledge, skills - i.e. knowhow – and attitudes, or wanting to get things done by putting one's skills and knowledge to good use," said Michele Ferraz, the firm's growth manager.
The client organization defines standards and rules for the training of its workforce. "Every organization has a model employee it would like to duplicate, and this is possible with our platform," Ferraz said. The solution is therefore entirely tailored to the client's needs and specificities.
Xeduca uses analytical algorithms to assess the progress made by trainees, and furthers their engagement by offering personalized learning paths. The goal is to achieve a level of knowledge retention as good as, or better than, that obtained using traditional techniques.
Another advantage of the platform is that it can include participants in different locations and on different shifts, maintaining the same standards and rules, simplifying logistics in terms of travel and infrastructure, and avoiding interruptions to operations. The cost is therefore lower in all settings.
Different contexts
The system has been applied in different contexts in the areas of security, facilities and healthcare. One of the partners that have tested the solution is the Brazilian arm of Onet, an international engineering and services company headquartered in France, which used the methodology to train hospital cleaning supervisors. Virtual environments and processes identical to the hospital were created for the project. The participants have so far attended four out of six personalized training sessions focusing on critical procedures in day-to-day operations.
Significant improvements have been observed in various aspects, such as more standardized procedures and hospital bed availability. "The participants' sense of belonging has also improved," Ferraz said. Improvements such as these enhance workforce retention, efficiency, and onboarding of new employees.
The learning path modularity makes the system adaptable to practically any industry. "Moreover, it's highly interactive, which helps keep trainees interested. Inattention is one of the main challenges of adult education. The interactivity increases the participants' involvement and the pleasure they take in learning," Ferraz said.
Another key aspect of the solution is the ability to identify skills and attitudes. "Training managers can use it to find out what needs to improve, and to assess employees' attitudes," she said, explaining that it is often difficult for organizations to know whether attitudes are properly aligned with their corporate interests. "In security, for example, it's essential to train attitudes. Everything is controlled in the platform, with no real weapons or people. The environment is just like the real world but entirely safe."
The concept is unique, according to Ferraz, and no systems with the same elements are available elsewhere. "There are options that also use 3D goggles, but Xeduca's solution is much more than the goggles, although they get a lot of publicity. For example, we have a mobile alternative that's non-immersive and can be used by anyone. The interactivity is based on voice recognition. If the goggles make users feel nauseous or dizzy, they can do the training non-immersively thanks to this alternative," she said.
The main goal is to achieve a pronounced improvement in the attitudes of fieldworkers, especially those who deal with the general public and must maintain a high standard of services across several units located in different parts of a city, for example. "The methodology can also be used to assist recruitment, selection, and reallocation or re-factoring of job profiles to positions with more aptitude," Ferraz said.
The startup's pillars, she added, are personalized learning paths, the andragogic methodology, and training of skills and attitudes. "To bring all this together, the process begins with consulting, and the content is entirely developed on the basis of the client's needs. To our knowledge, no one in Latin America is doing anything like this," she said.
Xeduca is currently participating in PIPE Invest, a funding line for startups and small to medium enterprises that have already begun developing processes or products with significant potential for success and have attracted the interest of an investor. The firm has also received investment from Digitron, an electronics company whose CEO is Sung Un Song.