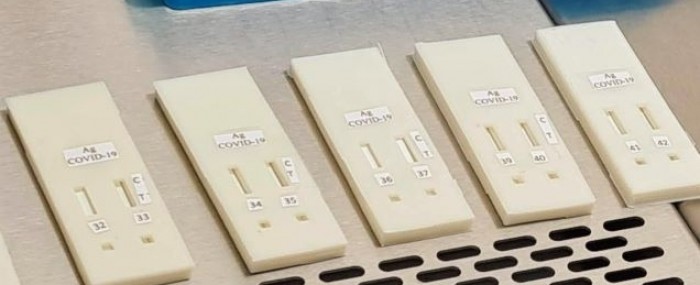 The startup supported by FAPESP produces all of the inputs for the test and will supply them to partner companies that will assemble kits and distribute them to retailers (photo: Thiago Oliveira)
Company based in São Paulo develops self-test that detects all variants of SARS-CoV-2
05 de abril de 2022
By Fábio De Castro | FAPESP Innovative R&D – PIPE), and will be supplied to partners for assembly and distribution of the test kits.
According to Mona das Neves Oliveira, the researcher responsible for the project, the main advantages of the test are that it can be used at home, it takes only 15 minutes to produce a result, and it can detect all variants of the virus.
"The technology we use permits detection of parts of the virus that don't mutate and has been shown to be highly sensitive to all variants, including omicron," said Oliveira, scientific director of Biolinker, a startup incubated at the Center for Innovation, Entrepreneurship and Technology (CIETEC), run jointly by the University of São Paulo (USP) and the Nuclear and Energy Research Institute (IPEN).
Also with support from FAPESP via PIPE, Biolinker had already partnered with Frank Crespilho, a researcher at USP's São Carlos Chemistry Institute (IQSC), to develop a rapid serological test that detects antibodies to the virus but has to be performed in a laboratory (more at: pesquisaparainovacao.fapesp.br/1703/).
During the latest wave of the pandemic, however, diagnostics centers called for urgent access to rapid test kits, which were in short supply throughout Brazil, and Biolinker decided to prioritize development of the new rapid test.
"Our research on the serological test was more advanced, but we switched to focus on the rapid test because resources were limited and we already had prospective customers for the product," Oliveira said. "We produced the biomolecules, evaluated local suppliers, and conducted trials. We've now completed development of the technology for the COVID-19 antigen rapid self-test."
Given the strong demand for test kits in Brazil, in February Biolinker received support from an angel investor, enabling it to undertake significant expansion of its active pharmaceutical ingredient (API) plant so that it can ramp up production of the rapid test and other products.
"It's all happened very quickly, thanks to prior development and support from FAPESP and USP, in a veritable task force powered by Brazilian biotechs," Oliveira said. "We're currently in the stage of validating results. We've applied to ANVISA [the national health surveillance agency] for registration, and we're engaging with partners to contract for production while obtaining the requisite certifications for the new API plant."
The firm has not abandoned the serological test, however. According to Oliveira, it will also be important to help improve triage of COVID-19 patients and extend nationwide epidemiological control of the disease.
"The serological test detects IgG circulating antibodies, showing not whether people have the virus but whether they have had contact with it on the basis of their immune response," she said. "People can have the antibodies without viral replication, especially if they're vaccinated, so this test doesn't help us know who's transmitting the virus, which we need to know in order to avert another wave."
On the other hand, serological testing is key for epidemiological purposes because it points to the level of protection against the virus, and is therefore increasingly important as mass vaccination progresses, according to Oliveira. "As soon as we have the funding, we'll transform the serological test into a product as well, as a second option for customers," she said.
Scaling up production
The firm will have the capacity to produce 50,000 rapid test kits per week, according to Oliveira. The inputs will be delivered to customers, who already have industrial plants certified by ANVISA to assemble the kits, including paper strip impregnation, cutting and packaging, among other processes. "We promise contractually to deliver this quantity of inputs. If demand increases at a later stage, we'll also scale up production," she said.
The firm's new plant, which will produce the inputs, is located in the industrial park at Cotia, a municipality in metropolitan São Paulo. Its new headquarters there will be five times larger than the space it now occupies, which is only 45 square meters.
"It's hugely difficult to mass-produce with such a small plant. At our new API plant, we'll be able to separate sectors, increase scale, and comply with the requirements of INMETRO [the Brazilian Institute of Metrology, Quality and Technology] and ANVISA for registration of our products," Oliveira said.
The API plant has been made possible by the angel investor, but the firm declined to name the person or say how much they invested. "The investor came to us with an interest in synthetic biology and offered to act as our mentor for a one-year period. We received the investment in December 2021. In addition to the funds, the mentorship helped us a great deal with risk assessment and organization of our team," Oliveira said.
This rapid growth led Biolinker to set up a new company called Biolinker Diagnósticos as a partnership with Crespilho, whose research group is internationally renowned in the field of biosensor development. "Biolinker Diagnósticos will focus on developing tests for consumers using our technological platforms," she explained. "Biolinker will focus not on producing tests but on producing molecules for other companies. The new plant will enable us to work on projects for large pharmaceutical, food or agribusiness companies that want to make proteins."
Biolinker Diagnósticos will also offer customer service, in compliance with ANVISA's requirements. "One of these is to set up a 24-hour service channel to provide assistance to consumers," she said.
Biotech and innovation
Biolinker is dedicated to research and development for solutions in biotechnology, especially those based on synthetic biology, for companies in a range of industries, and for research laboratories. It used recombinant DNA technology to develop both tests. According to Oliveira, this technology entails genetically modifying bacteria to express the viral protein of interest. This stage of the project was also supported by PIPE and received funding from FINEP, the Brazilian government's innovation agency.
The firm specializes in recombinant DNA technology, which is very different from the technologies used by producers of imported tests. "Without our recombinant DNA technology, we wouldn't be able to produce viral proteins," she said. "Instead, we would have to grow the virus, but it's so contagious that this would require a lab with a very high level of biosafety. Such facilities are very rare in Brazil, and indeed anywhere."
Biolinker is the only firm in Latin America that performs the procedure in vitro, she added. It developed an accelerated method that reduced to a maximum of two weeks the time required to analyze a large number of viral proteins and obtain the gene that produces the best response in the human organism.
"We chose the candidate genes, produced them in our lab, and identified the most viable for production at scale," she said.
Antigen screening was performed using a cell-free protein synthesis technology for in vitro transcription and translation developed by the firm. "Cells contain many enzymes that work like tiny factories producing other proteins. We used the cell-free approach to open up cells and get them to produce only the proteins we wanted to synthesize, so it was a fast process. We were able to produce a small quantity, but it was sufficient for antigen screening purposes. After that, in the production stage, we used the conventional method," Oliveira said.
Besides innovation in antigen screening, the researchers deployed another innovative resource specifically to develop the rapid test. "We used the bioconjugation model developed by Professor Crespilho to enhance the test's detection performance and sensitivity. Our antigens were crucial to the specificity and accuracy of the method," she said.
Thanks to this, the rapid test has the sensitivity to detect all variants of the virus. "This is important, as many of the tests that are on the market aren't able to detect omicron or are producing many false negatives," Oliveira said.