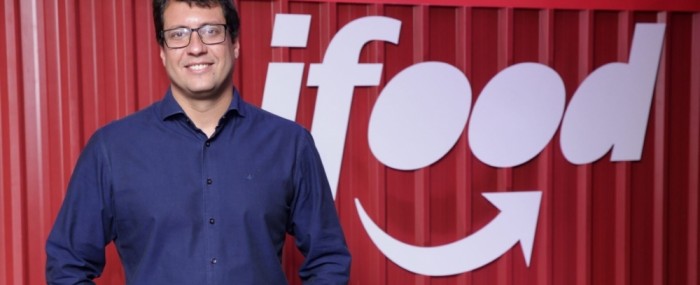 One of the executive's aims is to encourage other Brazilian entrepreneurs to invest in science- and technology-based startups (photo: Midori de Lucca)
CEO of iFood invests in biotech startup supported by FAPESP
14 de junho de 2022
By Elton Alisson | FAPESP Innovative R&D – Fabricio Bloisi, CEO of iFood, the leading company in Brazil's online food business, has announced that he will invest in Biolinker, a synthetic biology startup supported by the FAPESP Innovative Research in Small Business Program (PIPE).
"I invest in causes I believe in. I want to strengthen biotechnology in Brazil by investing in this promising young company," Bloisi said.
He also wants to set an example that will encourage other entrepreneurs in Brazil to pay more attention to science-based startups and the deep techs that are making a significant contribution to several industries, such as pharmaceuticals, vaccines, hospital equipment, agricultural machinery, and aerospace systems.
"Science- and technology-based startups in Brazil need more investment because they produce a large amount of innovation for existing and new markets," he said. "FAPESP and a few other institutions support such startups, but they need more private funding and resources in order to be able to scale up."
Bloisi graduated in computer science from the University of Campinas (UNICAMP) and in 1998 founded Movile Group, now the holding company for iFood, Sympla and other startups. He heard about the work of Biolinker's researchers in synthetic biotechnology from reports in the media and decided to take a look at the firm for himself.
"It was most interesting to see how their work contributes to cancer drug discovery, healthier foods and higher crop yields," he said.
Biolinker was founded in 2018 in São Paulo City by researcher Mona das Neves Oliveira. In projects supported by PIPE, it developed a biotech platform to discover, develop and produce high-value innovative proteins by cell-free synthesis using biological machinery harvested from cells.
The firm's researchers have succeeded in refining the methodology in stages to produce and purify recombinant proteins at high speed. "The cell-free protein synthesis process we've developed is scalable, and can be used to produce proteins commercially," Oliveira said.
Many applications
Recombinant proteins produced on demand by the startup are used by research laboratories and industry to develop biopharmaceuticals, boost crop yields and improve epidemiological surveillance during the COVID-19 pandemic, among many other applications.
Early in the pandemic, Biolinker's researchers realized their technological platform could be used to produce lyophilized SARS-CoV-2 proteins, which are important to the development of vaccines, drugs and diagnostic tests. These proteins include the nucleocapsid antigen of the surface-expressed spike protein used by the virus to bind to the ACE2 receptor and invade human cells, and the receptor-binding domain protein (RBD) at the docking tip of the spike.
Early in 2021, they partnered with Frank Crespilho, a professor at the University of São Paulo's São Carlos Institute of Chemistry (IQSC-USP), to develop an affordable test that detects antibodies against SARS-CoV-2 in ten minutes (more at: pesquisaparainovacao.fapesp.br/1703). More recently, they developed a rapid self-test that detects all circulating variants of the virus (more at: pesquisaparainovacao.fapesp.br/2215).
The partnership with Professor Crespilho was so productive that it resulted in the creation of another startup, Biolinker Diagnóstica, to develop tests for 20 diseases, initially focusing on COVID-19, dengue, chikungunya, zika and flu.
"Biolinker Diagnóstica will make consumer products, leveraging our technological platforms to develop diagnostic tests. Biolinker, on the other hand, won't focus on producing tests but on producing molecules for other companies," Oliveira said.
Bloisi has not disclosed the size of his investment in the startup, which plans to use the money to expand development and production capacity at its new facility on the Cotia industrial estate in metropolitan São Paulo.
Bloisi will sit on the firm's board, having already acted as a mentor to assist its growth and management. "His mentoring helped us a great deal," Oliveira said. "We're now better at assessing risks and results, and our workforce is more effectively structured."