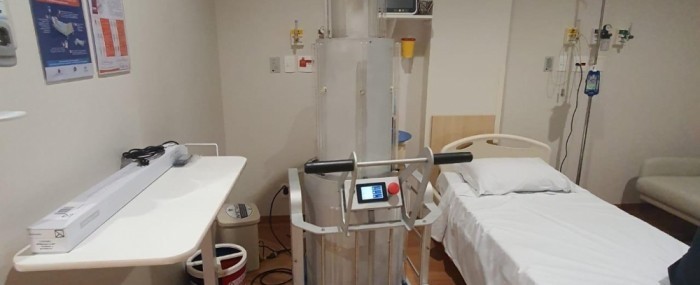 The technology uses ultraviolet-C, which can inactivate the novel coronavirus. Startup BioLambda was supported by FAPESP and partnered with the Albert Einstein Jewish-Brazilian Hospital in São Paulo (photo: BioLambda)
Brazilian startup develops remotely operated room sterilization device
09 de março de 2021
By Elton Alisson | Agência FAPESP – BioLambda, a startup based in São Paulo, Brazil, has developed a remotely operated mobile device that can sterilize a large indoor space in three to six minutes using ultraviolet-C radiation (UVC). The project was executed in partnership with Albert Einstein Jewish-Brazilian Hospital (HIAE), one of Brazil's largest private hospitals.
The device was originally designed for use by hospitals to kill germs in patient wards, emergency and operating rooms, clinical laboratories, ambulances, and triage and blood sampling areas, but it can also be used to decontaminate offices, food processing plants, and even containers for fresh or processed food exports before they are loaded on to ships.
In addition to killing germs, the UVC device can also inactivate the novel coronavirus, said Caetano Sabino, founder of the startup.
"Tests performed in a biosafety level 3 [BSL-3] laboratory showed that even our portable surface decontaminator, a less powerful device, eliminates 99.9% of SARS-CoV-2 viral load in less than a second," Sabino said.
The UVC unit is part of a line of devices for decontaminating surfaces, air, environments, N95 respirators, and cloth face masks developed by the firm with support from FAPESP's Innovative Research in Small Business Program (PIPE) (read more at: agencia.fapesp.br/34518/).
The UVC equipment project began with a request from HIAE, whose support team conducted a market search for UVC room sterilization equipment at the start of the pandemic to bolster manual cleaning of rooms reserved for patients with confirmed or suspected COVID-19.
"Manual cleaning is very efficient, eliminating up to 92% of microorganism colony-forming units. We wanted UVC technology as a complement to optimize safety and efficiency," said Luiz Moreira, HIAE's head of governance and hospitality (and acting manager of healthcare support).
When they began using UVC sterilization equipment, initially from other suppliers, the HIAE team saw an opportunity to improve the technology's performance and usability. They were unable to locate manufacturers capable of meeting their requirements, so they agreed a partnership deal with BioLambda via Eretz.bio, HIAE's startup incubator.
"We were looking for a company that was willing to bring experience with UVC sterilization and technological expertise so that we could work together to develop an exclusive product for faster application," Moreira said.
The equipment initially purchased by HIAE took an average of 10 minutes to decontaminate a room with UVC. BioLambda increased the number of lamps and the unit's power consumption, shortening the time taken to complete the job to 5 minutes.
"We made a series of requests not only to shorten the time taken by the equipment, which is extremely important to optimize its use, but also to make it safer," Moreira said.
The BioLambda-HIAE partnership took about three months to develop a prototype of the device for testing on four hospital beds and rooms. Colony-forming units were counted before and after manual cleaning, and after UVC radiation. The results showed that manual cleaning combined with UVC sterilization eliminated 99.9% of the live microorganisms in these spaces.
Operational tests were then performed to make sure the device was easy to use for the hospital's cleaning staff. "After decontaminating a hospital room, the cleaners were told to take the device into the room, switch it on and leave again, so that the device could autonomously execute the UVC disinfection procedure," Sabino said.
High-powered
The device is retractile and looks somewhat like a telescope. It has a fixed base and two internal modules. When the device is switched on, the internal modules emerge, an alarm beeps, and a warning light flashes to make sure no-one is nearby is exposed to UV.
"UV with a wavelength of more than 180 nanometers can be a health hazard, potentially injuring the eyes and causing skin cancer and aging," Sabino said. "The skin and eyes should never be exposed to UVC radiation."
In addition to the alarms and motion sensors, the device also has a safety system in a board similar to a "wet floor" sign with four built-in contact sensors and an electronic panel displaying the time left until the disinfection process ends. The board is placed on the surface of the door to the room to be sterilized and activates the device. If the door is opened while it is running, the process is interrupted.
"We're developing a model with a touch screen to control the device," Sabino said. "It will display an evacuation countdown as well as the running time, and also let the user control beeper volume. In some places, you might want it to be loud to keep people out, whereas in others it should perhaps be soft because there are patients, for example."
The device is fast thanks to its 2,000-watt power rating. It can decontaminate a 30 square meter room in 5 minutes. "You have to be quick in a hospital because between the discharge of one patient and the admission of the next you only have 30 to 40 minutes at most," Sabino said. "With conventional UVC equipment, decontamination of a room this size would take as long as 1 hour, not counting the time needed to clean everything manually and change the bed linen."
Besides patient rooms, HIAE is using the equipment to sterilize ambulances and hemodialysis rooms and plans to evaluate its use to disinfect operating rooms.
Initially it will buy eight to ten units for use at its Morumbi facility. BioLambda expects to sell the device to other hospitals for about BRL 50,000 (now roughly USD 9,000).