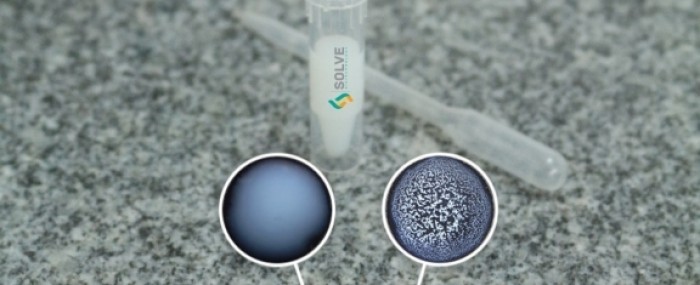 Inexpensive test is non-invasive and based on detection of bladder cancer biomarkers in urine (photo: Solve Biotechnology)
Brazilian startup develops rapid test to diagnose bladder cancer
30 de março de 2021
By Eduardo Geraque | FAPESP Innovation R&D – Researchers at the Brazilian startup Solve Biotechnology are developing a rapid test to diagnose bladder cancer. The purpose of the innovation, which is about to begin industrial ramp-up, is mainly to reduce the number of invasive tests to which patients are submitted from the discovery of cancer to the end of treatment.
Development of the low-cost test is a project supported by the FAPESP Innovative Research in Small Business Program (PIPE). The basic principle is the detection of bladder cancer-related biomarkers (molecular signatures) in urine.
If certain proteins are present in the sample, antibodies included in the test kit make the particles agglutinate (clump together) and the urine look like curdled milk. "This doesn't happen without the presence in the urine of molecular traces of a bladder tumor," Juliane Vieira Alberice told Innovative R&D. She is a co-founder of the startup, which operates out of São Carlos in the state of São Paulo, Brazil.
Alberice had the idea of developing the test while she was working on a research project relating to bladder cancer for a PhD in analytical chemistry at the University of São Paulo (USP). She and a fellow student, chemist Juliane Cristina Borba, decided to partner on the venture.
"When we began our research, we found that the existing tests to diagnose bladder cancer were expensive and invasive, causing patients a huge amount of discomfort," Borba said. "Moreover, few tests used only urine, most were imported, and the percentage of false positives was high, creating serious problems as far as treatment was concerned."
After talking to doctors and patients, the two entrepreneurs decided to develop a cheap non-invasive test to diagnose bladder cancer based on nanotechnology and immunology.
"The most widely used test right now is bladder cystoscopy [in which a tube with a camera is inserted via the urethra to image the bladder tissue], but this is often the last resort because it's expensive and invasive. It also has to be performed several times after treatment to look for recurrence," Borba said.
The test she and Alberice are developing will not replace cystoscopy but is designed to facilitate early detection of a tumor to avoid unnecessary removal of the bladder (cystectomy). "This happens a great deal owing to late diagnosis and the cost and invasiveness of the tests," Borba said.
Cystectomy is severely troubling for patients, who have to wear an external urine collection bag called a urostomy pouch. "The biomarkers we've developed are highly active, and we've found them to work well and speedily in trials with both synthetic samples and actual urine from bladder cancer patients," Borba said.
Bladder cancer affects thousands of people in Brazil, especially men. According to the National Cancer Institute (INCA), 10,640 people developed the disease in 2020, and 7,590 were men. The number of cases among men corresponded to 3.4% of all cancer cases reported nationwide. Bladder cancer is the eighth most common type of cancer among Brazilian men.
"During all stages of the research we did for the project, we spoke with patients who had undergone several cystoscopies," Borba said. "The process involves a significant psychological element, not least because cystoscopy is very unpleasant, especially for men."
She and Alberice now plan to use their expertise in molecular biology and immunological methods to bring to market a range of methodologies, instruments, and kits that simplify and solve problems relating to human health and nutrition.