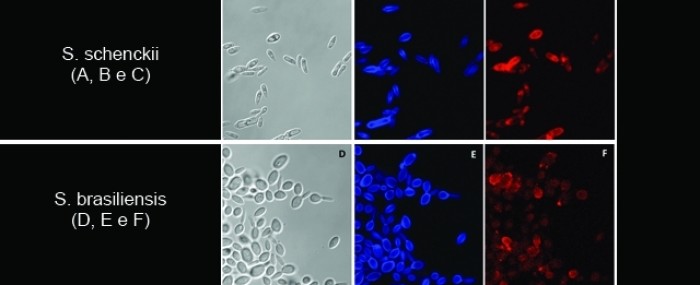 With support from FAPESP, BiDiagnostics plans to develop a methodology to detect the most prevalent and virulent species of the fungus that causes sporotrichosis. The number of notified cases in Brazil has increased 600% in the past five years (image: Leila Maria Lopes Bezerra)
Brazilian startup creates a test to diagnose disease that affects cats and humans
15 de outubro de 2019
By Elton Alisson | Agência FAPESP – With support from FAPESP via its Innovative Research in Small Business Program (PIPE), BioInsumos e Diagnósticos (BiDiagnostics), a startup based in São Paulo, Brazil, is developing a novel test to diagnose sporotrichosis, a skin infection caused by fungi in the genus Sporothrix and considered a zoonosis.
The number of cases has increased exponentially, especially in domestic cats but also in dogs and humans. The fungus grows naturally in soil and on the surface of plants. Infected cats transmit the fungus by scratching and biting. Infection can cause severe lesions, which spread throughout the body and may eventually affect internal organs. The disease can be fatal if it is not treated promptly.
Infected humans, who have usually been scratched by a cat, rose bush or other plant, develop sores on their hands and face. Most often, the sores in humans are not as severe as those in cats.
Although rarely lethal to humans, sporotrichosis is frequently mistaken for similar infectious diseases, especially cutaneous leishmaniasis. As a result, it can be diagnosed late, increasing the cost of treatment for public and private healthcare services.
"Cases in both animals and humans have been reported in all regions of Brazil in the past five years. The number of diagnosed patients has increased by as much as 600%," said microbiologist Leila Maria Lopes Bezerra, founder of BiDiagnostics.
Based on studies conducted in the past 20 years on the effects and evolution of Sporothrix spp., Lopes Bezerra identified a specific antigen for the serological diagnosis of human sporotrichosis caused by S. schenckii.
Once the specific antigen was characterized, a rapid test was developed to diagnose all clinical forms of the infection by detecting antibodies in the patient's blood serum. The method was clinically validated in patients treated at the hospital run by Rio de Janeiro State University (UERJ).
"The test makes diagnosis fast and accurate and facilitates treatment management, which takes at least three months. It also reduces the probability and cost of hospitalization due to late or incorrect diagnosis," Lopes Bezerra said.
The firm was incubated at the Center for Innovation, Entrepreneurship and Technology (CIETEC), hosted by the University of São Paulo (USP). Now, with the support of FAPESP via the PIPE program, this firm plans to develop a diagnostic test for sporotrichosis caused by S. brasiliensis using a different specific antigen.
S. brasiliensis, discovered in 2007, is more prevalent and virulent than S. schenckii in Brazil. Its clinical manifestations, once considered rare for this disease, include mucous membrane infection, endocarditis (infection of the heart's inner lining) and meningitis.
During the project, the researchers plan to validate the test using the two antigens they have characterized to assess its sensitivity and specificity and serum samples collected from patients with sporotrichosis caused by S. brasiliensis.
The researchers also want to test the potential applications of the test for differential diagnosis of sporotrichosis and cutaneous leishmaniasis.
"There is nothing similar on the market right now, so the test we developed to diagnose sporotrichosis caused by S. schenckii is the only one recommended in the medical literature," Lopes Bezerra said.
"Although the methodologies used today are perfectly valid, they do not allow you to do a large number of analyses and the analysis takes at least 15 days."
Change of focus
In the startup's initial business plan, the diagnostic test was intended preferably for the veterinary market, but when the researchers participated in the 12th PIPE High Tech Entrepreneurial Training Program offered by FAPESP and conducted 105 interviews with potential users of the technology, they concluded that a change of focus was necessary.
"Vets accepted the test as a diagnostic tool but were often fearful of having to take blood samples from cats because of the handling required," Lopes Bezerra explained.
"The interviews with human medical doctors showed us that the test would be an important aid for patient follow-up. We reformulated our business plan to focus on this segment."
The researchers found that patients go through four to nine medical consults on average in the public health service before being referred to a specialist, typically after taking antibiotics or being submitted to ineffective treatment.
"States where notification of sporotrichosis is mandatory, such as Rio de Janeiro, are currently reporting one case of human infection for every animal infection notified," Lopes Bezerra said.
There has been an epidemic of sporotrichosis in the City of Rio de Janeiro since 1998, according to the municipal public health surveillance service, which says 3,800 cats, 120 dogs and 4,000 humans were diagnosed with the disease in 2015 alone. The number of animals diagnosed with sporotrichosis increased 400% in 2016.
"There are reports of the disease in neighboring countries. This led PAHO [the Pan American Health Organization] to issue an alert at the end of August. So a novel test with the antigen for S. brasiliensis will not just meet demand in Brazil," Lopes Bezerra said.