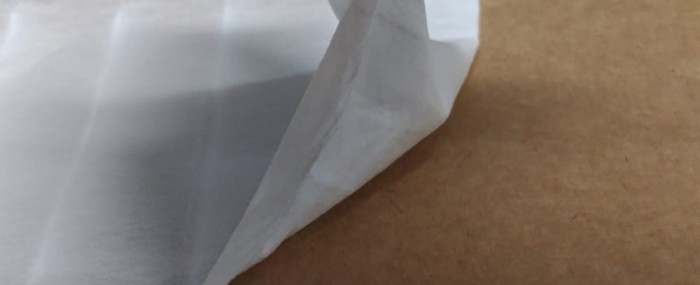 The material, created by startup Protech, can be used in face masks and surgical gowns. Other applications identified by the firm's founder during the training course offered by the FAPESP Innovative Research in Small Business Program (PIPE) include air conditioning filters, diapers and tampons (photo: Augusto Duarte Alvarenga)
Biodegradable fabric neutralizes bacteria and viruses, including SARS-CoV-2
24 de maio de 2022
By Elton Alisson | FAPESP Innovative R&D – In 2021, when researchers at Protech – a startup based in São Carlos, in the state of São Paulo, Brazil – began developing a biodegradable fabric that neutralizes bacteria and viruses, with support from the FAPESP Innovative Research in Small Business Program (PIPE), they first thought of the market for protective face coverings, an obvious application of the material during the COVID-19 pandemic.
However, Thiers Massami Uehara, who founded the startup, realized the technology could have several applications when he took part in the 20th edition of PIPE High-Tech Entrepreneurial Training Program.
"We concluded that the filtrating fabric could be used not just in face masks but also in surgical gowns, filters for air conditioning systems in aircraft, hospitals and factories, baby and adult diapers, and tampons," Uehara said during an event held at the end of the training program on May 17 (read more about the program at agencia.fapesp.br/23097).
The fabric with high filtration efficiency the firm is developing, he explained, is made of nanostructured fibers which decompose in a much shorter period than commercially used materials, as well as having biocidal properties.
The material is obtained by depositing silver nanoparticles on nanometric polymeric fibers (a nanometer is one-billionth of a meter) fabricated by a technique called solution blow spinning.
Tests conducted by the virology laboratory of the University of Campinas's Institute of Biology (IB-UNICAMP) showed that the material was capable of eliminating SARS-CoV-2.
"With this certification, we could go ahead and begin publicizing the application of the filtering mantle to other market segments," Uehara said.
After conducting 100 interviews during PIPE High-Tech Entrepreneurial Training Program with health workers, business managers, and quality and innovation analysts in the healthcare and personal protective equipment (PPE) industries, Protech's executives changed their business model canvas and reached important conclusions, one of which was that they should go back to focusing on the market for face coverings and surgical gowns.
"We plan to establish partnerships with firms that are well-positioned in this market, and only then move on to air conditioning filter applications for aircraft, automotive vehicles, food processors and pharmaceutical plants, as well as tampons and infant and adult diapers," Uehara said.
He presented information showing that before the COVID-19 pandemic the market for surgical gowns was estimated at USD 3 billion, with annual production averaging 1.1 billion units. In Brazil, over 27.4 million face masks were sold for some USD 35 million in 2019.
"We don't yet have an accurate estimate of this market during the pandemic and currently, but it must have grown significantly," he said.
Business model validation
Protech is in Phase 1 of PIPE, in which it is required to prove the technical feasibility of its product. Helping startups in this stage of the program to find out about their prospective customers is one of the aims of PIPE High-Tech Entrepreneurial Training Program, which FAPESP has offered since 2016.
To this end, participants are encouraged during the course to interview at least 100 prospective customers, partners and users of the solution they are developing, with a view to validating their business model.
"Over the years it's become evident to us that although PIPE focuses to a large extent on technology, and this part of the program is important to the startups we support, at the same time many of them need to know more about their prospective customers and competitors, as well as needing to be clearer about their business models," said Luiz Eugênio Mello, FAPESP's Scientific Director.
"The training program bridges this gap by enabling participants to identify potential customers and find out whether the technology they're developing will be relevant to the market."
During the 12-week course, the entrepreneurs who took part in the 20th edition of the program conducted almost 2,000 interviews with prospects.
"In addition to support for their research projects via PIPE High-Tech Entrepreneurial Training Program, participating startups receive assistance with the formulation of good business plans, commercialization of their research results, cash generation and job creation. By the end of the course, they're much better placed to succeed," said Carlos Américo Pacheco, FAPESP's CEO.
The presentations delivered by the startups that participated in the 20th edition of PIPE Entrepreneur can be watched by visiting: fapesp.br/15458.