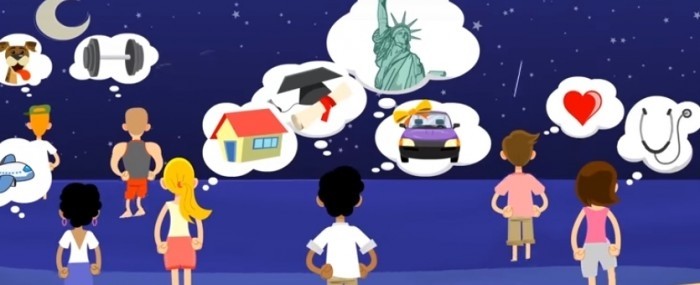 The most popular goals are saving, learning something new, practicing sports, and paying debts (image: 7waves)
Artificial intelligence helps make dreams come true
26 de fevereiro de 2019
By Suzel Tunes | FAPESP Research for Innovation – Most New Year's resolutions to change habits or achieve personal goals are doomed to failure by mid-year, but 7waves, a startup based in Sorocaba, São Paulo State (Brazil), decided to turn the tables by developing an app that could help users persevere in the pursuit of their dreams.
The project was developed by researcher Rodolfo Ribeiro da Silva with support from FAPESP's Innovative Research in Small Business Program (PIPE). Having graduated in business administration and proceeded to earn an MBA, Ribeiro had trained himself to plan life and work goals well ahead – on paper. Like most ordinary mortals, however, he failed to achieve them.
"In 2017, I realized that I'd only achieved three or four of the goals I'd set myself during the previous three years," he recalls. "That's when I had the idea of using my knowledge of management and technology to develop a personal goal planning app."
At the time, Ribeiro was an innovation executive with a telecommunications carrier. He resigned to establish his own firm with two other partners – computer scientist Bruno Oliveira and business administrator Danilo Pereira. The three partners named the startup 7waves as a tribute to the Brazilian custom of going to the beach on New Year's Eve (midsummer in Brazil) and jumping over seven waves for luck in the new year while making a wish each time. Ribeiro was born in Santos on the coast of São Paulo State and naturally followed this tradition.
Throughout 2018, 7waves was supported by Hubiz, the Sorocaba Technology Park incubator. "We were incubated as nonresidents because we've had our own premises since we founded the firm in July 2017," Ribeiro says. On February 18, 2019, the firm began receiving support from Baita, a startup accelerator hosted by the University of Campinas (UNICAMP), while continuing to operate in Sorocaba. "I chose this city as a base from which to launch my entrepreneurial career. It's near São Paulo City and has excellent universities, so I can find good professionals to recruit in this area," he explains.
Pocket coach
The app developed by 7waves is a type of virtual pocket coach that sets goals and helps the user achieve them. The app deploys artificial intelligence to make personalized suggestions based on the objectives of users with similar profiles.
The number of users is currently approximately 90,000. More than 150,000 goals have been registered. The most popular goals this year are "save money" (21.5% of users), "learn something new" (16.2%), "practice sports" (15.8%), and "settle debts" (10.5%).
Once the user or app has set one or more goals, the software helps plan the process of achieving them target by target or in stages. Notifications and messages with information are sent to the user by the app in each stage. The content of the notification is captured from the internet and validated by experts with whom the firm establishes partnerships.
"To help the user settle debts, for example, we search trustworthy financial education sources for recommendations. These are evaluated by professionals in the field, and we send the user links to the sites in question," Ribeiro says, adding that 7waves currently has more than 300 accredited sources and 5,500 validated content items.
Version 2.0
Even before the award of PIPE funding in February 2018, 7waves had already produced a prototype of the app, which was initially offered for testing to professionals in the areas of marketing, management and psychology. In December 2017, the app became available ad-free for downloading by any user. According to Ribeiro, the firm has no plans to sell advertising opportunities. "The value of the business is the robustness of the information," he says.
With support from PIPE, the startup refined the technology and established a business model to guarantee financial autonomy. "We've reached version 1.37 of the app, meaning we've issued 37 updates since the launch," Ribeiro says.
The first stage of the project ended in December 2018. "We're working on version 2.0 of the app. This version will target human resources departments and include technology to manage corporate objectives. The idea is to sell the app as a subscription service for which companies pay a monthly fee," he says. The app will remain free of charge for personal use.
"Our business model entails offering the app for HR and management generally to manage their staff's corporate goals and ensure that the company's objectives are achieved, as well as tracking individual and collective development on a day-to-day basis," Ribeiro says.
In addition, 7waves will offer HR departments surveys based on a statistical analysis of the data captured by the app. For example, Ribeiro says, "In a survey of 15,329 users of the app conducted between December 2017 and July 2018, the goal 'get promoted' ranked fifth, but 41% of those who listed this goal also prioritized settling debts. Information like this can give HR managers an indication of the need for a financial education program in the company."
Employees' corporate data will be kept strictly confidential and accessible only to the company for use in individual and collective management via a customized web-based system. Personal goals will be stored anonymously by 7waves in its own general database with no risk to user privacy.
As an additional guarantee of privacy for corporate users, 7waves has added two features to the app: a private profile for personal goals and an open corporate profile for corporate goals and targets. A company's HR department, for example, can discover that a significant number of employees want to switch jobs without being able to identify them, Ribeiro promises.
Prospective clients are already being contacted, according to Ribeiro. Currently, the firm is starting to seek funds from investors. "So far we've raised R$400,000 in angel investment," Ribeiro says.
Company: 7waves
Site: http://7waves.me
Tel: +55 15 99152 6030