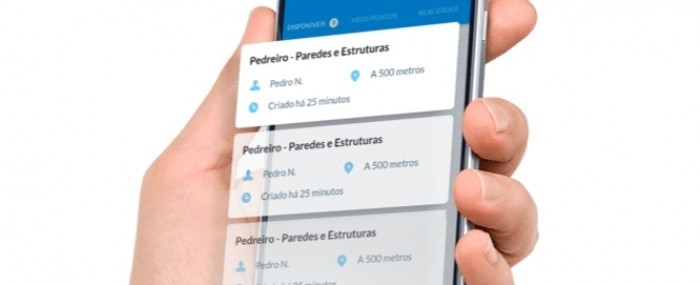 The firm has registered more than 350,000 professionals to date and handles some 2.5 million requests for service per year (image: GetNinjas)
App optimizes digital marketing results
15 de maio de 2018
By Suzel Tunes | FAPESP Research for Innovation – GetNinjas is an app that offers and finds more than 200 types of professional services, covering over 3,000 cities in Brazil. It was developed by startup GetNinjas Atividades de Internet Ltda., with funding from investors such as Monashees, Kaszek and Tiger Group. It has registered more than 350,000 professionals to date and handles some 2.5 million requests for service per year.
With funding from FAPESP's Innovative Research in Small Business Program (PIPE), the firm developed a computational tool to optimize campaign bidding via Google AdWords, which displays ads as sponsored links when users search for keywords.
The firm completed Stage 1 of its PIPE project in April 2018. The result will help increase the visibility of GetNinjas in the virtual environment and can be sold to other firms for the same purpose under a new business model to be implemented by a spinoff of GetNinjas, according to Samuel Martins Barbosa Neto, who has a PhD in computer science from the University of São Paulo (USP) and is the principal investigator for the project.
The system developed by GetNinjas is designed to obtain the best possible return on investment in Google AdWords measured in terms of customer acquisition. Google AdWords runs auctions in which advertisers bid the maximum amount they are willing to pay for every click on their ads. They will pay nothing if no users click on their ads.
"Advertisers bid for each keyword. Based on the bids, AdWords chooses which ads to put on the results page for every search performed," Barbosa explains.
Thus, if a user searches for "carpenter", for example, the first few results that appear on the results page are paid ads. Google's choice of ads is based on its ranking of advertisers' bids in the auction and on the user's geographic location.
The methodology used in the auction is called the "generalized second price": the price paid by the highest bidder is not its actual bid but the price bid by the second highest bidder plus one cent. To compute the most competitive bid and the most advantageous amount for the advertiser, GetNinjas's algorithm must estimate the bid to be placed for each keyword as well as the probable bids placed by competitors.
"The calculations are based on market trends. The tool considers the bids placed in different time windows [one week, one month, etc.] and geographic areas [as cost per click, or CPC, also varies according to the user's location]," Barbosa says.
Advertising spending versus ROI
Barbosa emphasizes that because advertisers seek the optimal return on investment (ROI) in advertising, they can stipulate the ROI they wish to target, and the algorithm works to meet this target.
Small firms can calculate ROI for AdWords campaigns manually, he notes, but GetNinjas processes a large number of keywords to ensure that ads appear on search results pages displayed to users interested in the service categories it offers. These services encompass some 200 types of offerings, from domestic services and building refurbishment to technical assistance, courses, consulting, events, and health and beauty, among others.
For Barbosa, the ability to optimize bids individually is the main difference between GetNinjas and competing apps. "There are foreign firms that automate bidding, like Marin or Kenshoo. They're worth millions on their home markets, but their models use average values for performance metrics," he says.
These bid managers, as they are known, can be smart tools for firms that offer only one product or service but are not ideal for firms that invest in diversified campaigns. "Each service offered by GetNinjas has a specific price, so we can't use the same bid for every service. We need fine tuning," he emphasizes.
According to Barbosa, the main challenge faced in the project was obtaining efficient data management with accurate measurement performed rapidly, in as close to real time as possible. The challenge was successfully addressed, and the proposed system is already running in the startup. The results have been excellent. "A specific feature of digital marketing via AdWords is that when a problem arises, it's detected quickly because the impact on revenue and cost is instantaneous: a wrong bid doubles the cost of a campaign in a flash. Responding fast is crucial," he says.
Technological evolution
GetNinjas, which operates the online professional service contracting platform, was founded in 2011 by computer scientist Eduardo L'Hotellier, who is currently its CEO. Three investment rounds led by venture capital funds fueled the startup's rapid growth.
This is the first time that the firm has participated in the PIPE program. Its aim in applying for support for the project was to "get structured", as Barbosa puts it, since the firm is already well known in the marketplace. PIPE gave it an opportunity for technological evolution. "The PIPE program is an interesting funding mechanism that enabled us to get some ideas off the drawing board," he says. "We saw it as a chance to develop a specific in-house project. The program was key to growing our marketing campaigns."
Continuous training of the workforce is also a concern. The firm currently has more than 100 employees. "The venture capital funds that invested in us have designated a number of entrepreneurs to act as mentors," Barbosa says.
In 2017, GetNinjas was ranked one of the most promising Brazilian companies of the year by Forbes Brazil. In 2018, it was listed as one of "100 Brazilian startups to watch" by Pequenas Empresas & Grandes Negócios and Época Negócios, business magazines published by Editora Globo, in partnership with consultants from EloGroup's Corp.vc.
Company: GetNinjas
Site: www.getninjas.com.br
Address: Av. Rebouças, 2472 - Pinheiros, São Paulo, Brazil
Tel: +55 11 2011-2017